Cannabis and Cabernet have a lot in common. Jamie Evans came to that realization while she studied viticulture at California Polytechnic State University in San Luis Obispo.
Evans, a 2018 Wine Enthusiast 40 Under 40 honoree, applied information she learned in classes on sensory evaluation to cannabis. In 2017, she launched The Herb Somm and began to host private cannabis tastings and culinary events in California in 2018. The events focus on terpenes—the aromatic compounds found in the plant—and how the unique profiles of various strains of marijuana can best pair with wine and food.
"Cannabis is just as complex as wine," she says. "There are a lot of similarities in the aromas and the flavors of cannabis and wine. Even the terroir of wine can be applied to cannabis."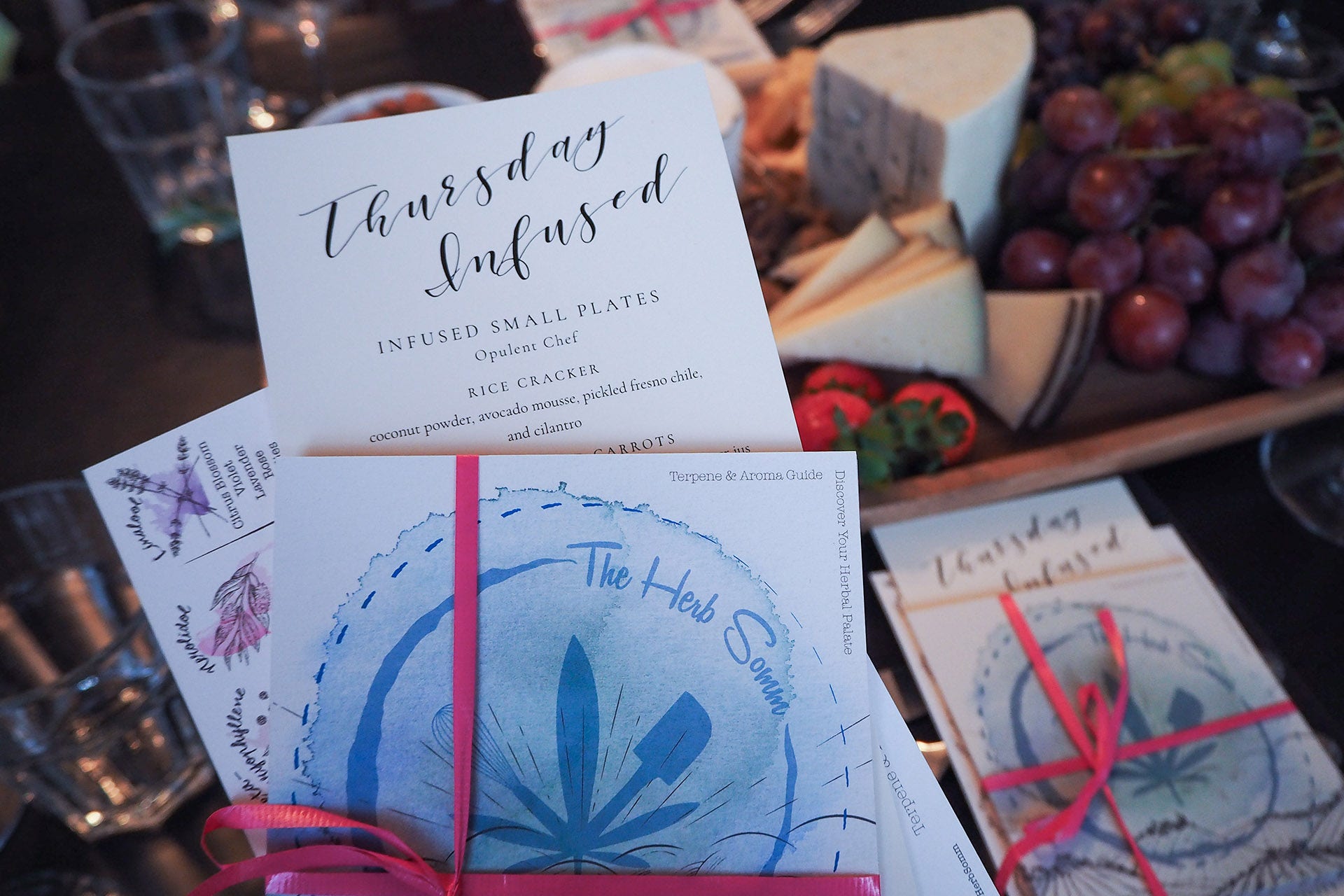 The seasonal, private "Thursday Infused" events she hosts can feature cannabis-infused cocktails and dishes with wine pairings. It's designed to introduce the "canna-curious" to the culinary side of the once-verboten plant.
"California has such a deep culture of gourmet food [that] dining and pairing and cannabis events resonated with the people who live here," says Evans. "We want people to think of cannabis in the same way they think of wine, as a gourmet product."
Legalization marches on
The legalization of recreational marijuana use in 10 states and Washington D.C. has sparked a demand for cannabis-focused experiences, from farm and dispensary tours to classes. Cannabis tasting and wine pairings are especially popular, and hosts often compare the events to multicourse wine dinners.
"Cannabis should be treated like fine wine," says Philip Wolf, founder of Cultivating Spirits, who hosts cannabis dinners in Colorado, Las Vegas and Los Angeles. "It harmonizes so well with food when you have the right pairings."
Wolf started to host the events in 2014. He works with  executive chefs and cannabis sommeliers that use their deep knowledge of terpenes, as well as flavor profiles, to pair gourmet fair with different strains.
The menu includes pairings like peach and avocado salad with lemon vinaigrette, paired with the cannabis strain Golden Goat; rosemary-infused leg of lamb with grilled asparagus and potatoes paired with Durbin Poison; and brownie sundaes with vanilla ice cream served with Summit Sweet Skunk.
Pair lighter strains of marijuana with white wines, and bolder strains with red wines. Sativa strains pair best with lighter fare like fish and vegetables. Indica strains are a better choice with heavier dishes like steak and comfort foods.
"It builds layers of flavor into the dishes," says Wolf. "We want to show people that we can use cannabis to enhance the flavors of what you're eating."
Cannabis might be the focus of the events, but sensory experiences are included. Wolf encourages guests to look at the trichomes, which are small crystals on the buds, as well as the color and density of the cannabis. He instructs attendees break apart the flower to release the terpenes and inhale their scent, and focus on the flavor of the smoke and how it feels in the mouth.
"When you pay attention to the finer aspects of cannabis, you learn more about which strains you prefer," he says.
How to pair wine and weed
Evans created a pairing chart that features the six most common terpenes along with their aromas, benefits, effects, popular strains and suggested food and wine pairings. She recommends guests to use a dry-flower vaporizer to best release the aromas and flavors of the marijuana they're pairing.
Linalool, found in Lavender OG and Amnesia Haze, has notes of citrus blossom, rose, lavender and violet. It's used as an anti-depressant and sleep aid, and pairs well with crème brûlée, honey, Riesling and Muscat.
The aromas of clove, black pepper and cinnamon common in strains like Rockstar and Northern Lights are due to the beta-caryophyllene terpene. It's a good pain reliever and anti-inflammatory that helps reduce stress and complements pumpkin pie, seared steak, Zinfandel and Cabernet Sauvignon.
"When you experience cannabis and wine side-by-side, the similarities between the two are amazing," says Evans. "You can see this light bulb go off when people get it."
Evans admits that the science is complicated. She breaks it down to a simple rule: Pair lighter strains with white wines, and bolder strains with red wines. Wolf recommends pairing sativa, strains that offer a more uplifting buzz, with lighter fare like fish and vegetables. Strains that have more calming effect, called indica, are a better choice with heavier dishes like steak and comfort foods.
The terroir of marijuana
Terroir is important, too. The sun, soil and water contribute to the flavors and aromas of different strains of cannabis, just as they do with wine. The California Department of Food and Agriculture launched the CalCannabis Appellations Project last year to allow licensed cultivators to establish appellation standards to emphasize the terroir of various growing regions.
"For cultivators, a big part of their story is talking about their unique location that makes their strains special," says Evans. "These growers are incredibly passionate, just like grape growers are passionate and proud of their wines."
How to best consume cannabis for flavor
While education is central to pairing events, consuming cannabis is often the highlight of the night. But that's a learning experience, too.
Guests learn how to consume cannabis to maximize its flavor, and there's more to it than simply lighting a joint. Evans steers clear of smoking cannabis with wine because it impacts the palate. She opts for vaporizers that emphasize the terpenes, without the smoke that compromises a food's flavor.
The amount of cannabis consumed during a dinner is also an important element. An estimated 10% of diners at events hosted by The Herb Somm are new to cannabis. Evans encourages a start low/go slow approach, and she works with chefs to infuse lower doses of cannabis throughout the meal.
At most events, the meal contains maximum of five milligrams of THC, a small amount, according to Evans.
"It takes about an hour to feel the effects of cannabis in consumed foods, so some chefs start out with THC [tetrahydrocannabinol, the psychoactive ingredient in cannabis] at the front of the meal, so it kicks in by the end of the evening," says Evans. "Other chefs end the night with CBD [cannabidiol, a non-intoxicating compound in cannabis] that counteracts THC, so people leave feeling really great."
The goal is to get diners buzzed about cannabis as a gourmet product. Wolf hopes that the burgeoning tasting trend will continue growing.
"As the stigma surrounding cannabis goes down, the market for tasting and pairing events is going up," says Wolf. "It won't be long before cannabis tastings will be as common as wine tastings."
Last Updated: May 5, 2023