Wine & Ratings
Agiorgitiko
About Agiorgitiko
Agiorgitiko, sometimes known as Aghiorgitiko or St. George, is a red grape variety native to Greece.
Of Greece's more than 200 indigenous grape varieties, Agiorgitiko is the most widely planted and among the most commercially successful. The grape's origins lie in Nemea, a region in the Peloponnese peninsula, though it is widely grown elsewhere in Greece, too. Other notable regions where the grape is produced include Attica and Macedonia.
Typically, Agiorgitiko produces wines with a bold red color, complex aromatics and generous, plummy fruit flavors. Agiorgitiko's solid structure and well-balanced acidity make it incredibly versatile from a winemaking point of view.
Due to its versatility, the Agiorgitiko grape can produce wines of various styles. Three styles of Agiorgitiko wine are particularly popular in Greece: rosé wine, light-bodied red wine produced using carbonic maceration, and full-bodied red wine. Some producers blend Agiorgitiko with Cabernet Sauvignon, notably in the Metsovo region in Epirus, to produce a traditional table wine known as katoi. The best expression of Agiorgitiko arguably comes from its native Nemea region.
As it the case with many indigenous Greek grape varieties, Agiorgitiko responds well to the country's growing conditions of primarily hot and dry weather, with very little rainfall. Agiorgitiko is late-budding and late-ripening. Its grapes are small and thick-skinned and have a tendency towards high yields.
The grape is highly susceptible to numerous diseases and pests in the vineyard, however, particularly downy mildew and powdery mildew. Attentive vineyard management is, therefore, necessary to prevent damage to the quality or yield of the grapes. Greek wine growers and authorities are working towards addressing this problem by developing Agiorgitiko clones that are resistant to viruses and replanting vineyards with them.
Agiorgitiko is the key grape in wines from the Neméa Protected Designation of Origin, or PDO (much like an AOP in France or AVA in America). These wines boast a deep and dark ruby color, and show highly concentrated aromas of red fruit. Nemea wines illustrate Agiorgitiko's versatility, ranging from light and easy-drinking to full-bodied expressions. The latter are often aged in oak, have excellent structure and a decidedly spicy character.
The best Nemea red wines are produced from grapes grown in the region's higher vineyards, some as high as 900 meters in altitude. They have excellent ageing potential. Regardless of the style, Nemea wines from the Agiorgitiko variety are particularly food-friendly, and pair well with a broad range of foods, both Greek and international.
Other synonyms for Agiorgitiko include Aghiorghitico, Aigeorgitiko and Mavro Nemeas.
Searching for a light or full-bodied red? Our expert tasters have provided reviews and details on the best, top-rated Agiorgitiko wines. Use the online Buying Guide below to browse and find a bottle to match your tastes.
Also Take a look at...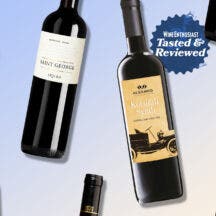 Subscribe to Our Newsletters
Sign Up For Wine Enthusiast Emails For Discounts And More!
Welcome to Wineenthusiast.com! By using our website and/or subscribing to our newsletter, you agree to our use of cookies and the terms of our Privacy Policy