Riedel Glass Lead Crystal Decanter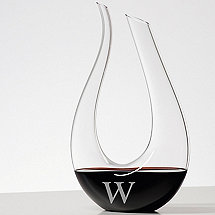 Personalized Riedel Amadeo Lyra Decanter
$399.95
Quick View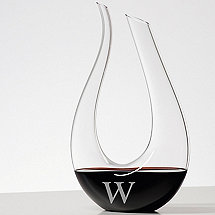 ---
---
Turn entertaining into high art. Created to commemorate Riedel's 250th Birthday the Riedel Amadeo Lyra Decanter is a masterpiece of mouth-blown glass art. The skillful glass blown art is so intricate that it makes each piece unique from another. No two Lyra Decanters look alike. This Riedel Amadeo Wine Decanter boasts a unique & challenging shape and design. Only experienced master glass blowers can produce it. Note: The only products that can be used to ...
Item #
761 15 58
---
View Full Detail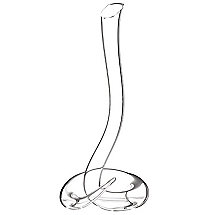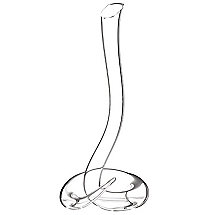 ---
$446.25
Reg. $525.00
Save 15%
---
This elegant Riedel Eve decanter is an artful masterpiece as well as an extremely functional wine vessel. The Eve decanter features a generously tall silhouette of almost 20 inches and the unique design is reminscent of an elegant upright cobra waiting to drink the wine you pour forth. The person serving from this decanter can create a dramatic presentation as it is necessary to turn the vessel a specific way to pour. No worries though. ...
Item #
761 75
---
View Full Detail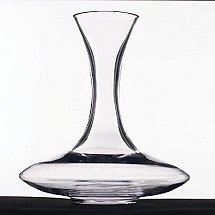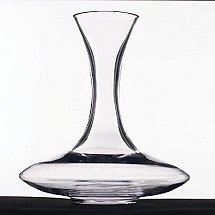 ---
$234.95
Reg. $275.00
Save 15%
---
Aerates wine faster with an extra-wide base. The Riedel Ultra Wine Decanter offers a modern design in crystal while creating maximum breathing room for your wine. The wine decanter has a broad base that allows the wine to aerate and release flavors and aromas which enhance the attributes of your wine. Decanting wines (particularly old wines) just before serving ensures clarity and true color while preventing any sediments from interfering with the wine-drinking experience. Decanting ...
Item #
761 08 01
---
View Full Detail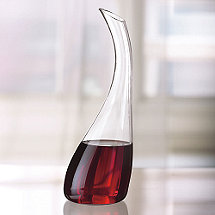 Riedel Cornetto Single Wine Decanter
$235.00
Quick View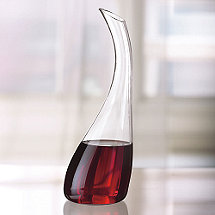 ---
---
As easy to hold as it is to appreciate. The graceful silhouette of a swan is the inspiration for the Riedel Cornetto Single Wine Decanter. The glass artists at Riedel Glassware replicate the swan's elegant neck for this hand-sculpted wine decanter. The Riedel Swan Decanter is as easy to hold and pour from as it is captivating. Size: 12-5/8'H 41-1/4 oz.
Item #
761 09 01
---
View Full Detail
Top Categories
Shop Decanters