Pint Glasses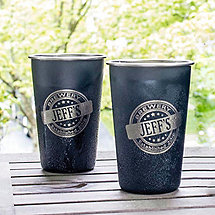 Personalized Black Stainless Steel Pint Glasses (S ...
$39.95
Quick View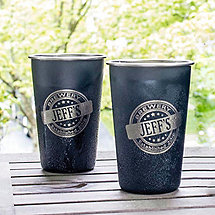 ---
---
Enjoy your favorite draught beers at home with this Personalized Black Stainless Steel Beer Growler and glasses set. Each black matte piece is laser etched with a personalized brewery logo with the name and year of choice. The wire-flip lid creates a seal keeping beer fresher for longer while the built-in carrying handle makes transporting filled growlers a snap. Decorated in the USA. Set includes 2 glasses Stainless Glasses Dimensions: 5' H X 3-1/2' Dia ...
Item #
773 50 02
---
View Full Detail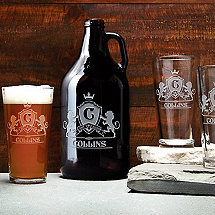 Personalized Family Crest Growler & Pint Glass ...
Quick View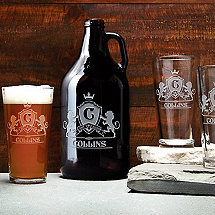 ---
$109.95
Reg. $129.95
Save 15%
---
This is the perfect gift for the beer lover in your life. The 64 oz dark glass growler will protect your prized craft beer all the way from the brewery to your home. And what better way to enjoy a favorite brew than in a personalized pint glass. This set features a deeply etched personalization up to 14 characters plus year and single initial. Dishwasher safe. Personalization Notes: *Please note punctuation is NOT automatically included. ...
Item #
779 08 87
---
View Full Detail