Personalized Wine Barrel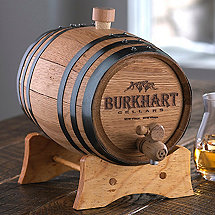 Personalized Mini Oak Wine Barrel
$64.95
Quick View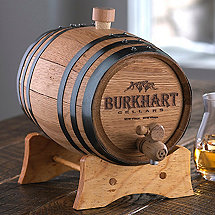 ---
---
Want some fun? Roll out the barrel! Guests will get a big kick out of this little wine cask hand-made from American white oak. They'll be even more surprised when they see it's a real functional wine barrel---complete with spigot and bung---and not just a decor piece. Like any oak barrel it's also designed to properly age your chosen beverage be it wine beer tequila rum or any other spirit. Holds 1 2 3 or ...
Item #
336 01 03
---
View Full Detail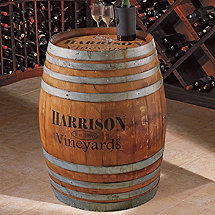 Personalized Finished Full Wine Barrel
$595.00
Quick View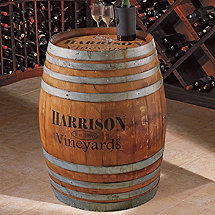 ---
---
The beautiful Whole Refinished Wine Barrel are made from French Oak and Vintage barrels. Wine Barrels are 55 to 60 gallon approx. 36″ tall by 24″ wide. Barrels are finished in a satin urethane that shows off all the true natural beauty that the French oak has to offer. Please Note: Coloration and markings vary greatly on retired wine barrels. Each one is unique no two alike. These barrels have been stored outside or in ...
Item #
324 50 05
---
View Full Detail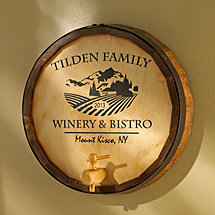 Personalized Oak Wine Barrel Top Sign with Chateau
$129.95
Quick View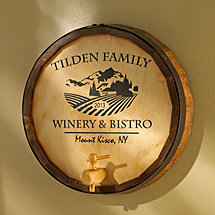 ---
---
Distinctive decor from the winery to your wall. The sign is made from a new oak wine barrel with steel hoop backed with pine and customized for you with name and location. An authentic look that displays your love of wine. Personalize with up to 30 characters each on three lines. Includes hanger. Line 1: 30 Characters Year: 30 Characters Line 2: 30 Characters Line 3: 30 Characters Size: 21' Dia 3-1/2' deep
Item #
350 30 05
---
View Full Detail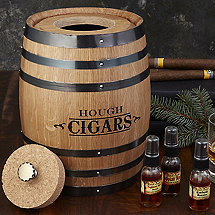 Personalized Cigar Infusion Barrel Humidor
$99.95
Quick View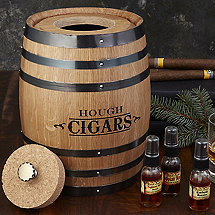 ---
---
Personalize up to 2 Lines Cigar Humidor Barrel An oak barrel that infuses cigars with the flavor of their favorite spirits. Just moisten the staves with the whiskey scotch bourbon or essence of choice and give the cigars a few days to soak it all in. Simply spray the essence in the infusion barrel enough to wet and be absorbed by the barrel staves. Place your favorite cigars in the barrel and close the top. ...
Item #
336 15 02 02
---
View Full Detail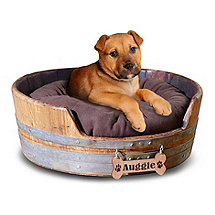 Personalized Wine Barrel Pet Bed Small
$195.00
Quick View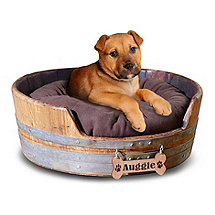 ---
---
Personalize with Choice of Oval or Bone Plaque (Add up to 25 Characters) When your pet needs comfort from something that is unique and one of a kind the Wine Barrel Pet Bed has the solution. Handcrafted from Reclaimed Wine Barrels giving second life to these beautiful barrels. This model also includes a storage area just lift up to store favorite toys. Please Note: These item(s) are hand crafted and NO two are alike. Each ...
Item #
327 09 03 01
---
View Full Detail