Oak Vintage Rack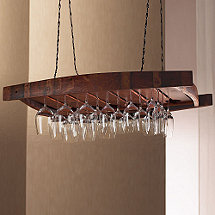 Vintage Oak Hanging Wine Glass Rack
$159.95
Quick View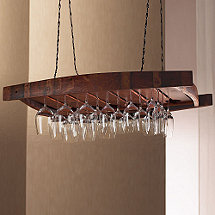 ---
---
The Vintage Oak Hanging Wine Glass Rack takes 18 stems of any size. A uniquely beautiful piece with just that warm country feel you want in the cellar pantry or bar. Richly crafted of fresh-scrubbed pine and the staves of genuine oak wine barrels with the weathered effects of the wine they once stored it suspends from the ceiling on sturdy chrome-plated steel chains (chains included mounting hardware is not) Size: 4'H x 37'W x ...
Item #
570 11
---
View Full Detail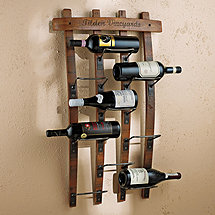 Personalized Barrel Stave Wall Rack
$179.95
Quick View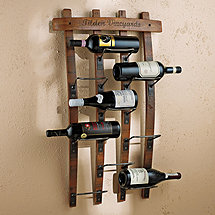 ---
---
Authentic barrel staves reclaimed and fitted with recycled iron to cradle up to 9 of your favorite bottles. With the rustic appeal of one discovered at a Sonoma flea market this vintage piece brings home all the warmth of wine country living. Please state up to 20 characters per line. Allow 3 to 4 weeks for delivery. Each piece is made by hand. Dimensions: 20-1/4'W x 33-3/4'L x 4-1/2'D. (Please note dimensions may vary)
Item #
570 08 15
---
View Full Detail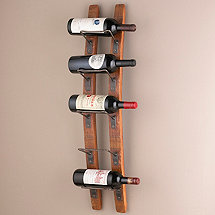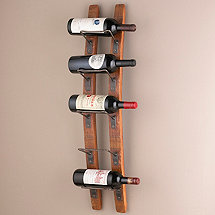 ---
---
Natural materials naturally beautiful functionality. This reclaimed barrel wine rack is handcrafted from re-purposed oak staves from wine barrels and hand-tooled recycled iron bottle holders. The aged oak finish and wine-stained back make for a distinct piece that holds 5 bottles. (No assembly required. Hardware for hanging already attached.) Made in the U.S.A. and India. Note: These barrel wine racks are constructed from real vintners' barrels and may have stamps or other writing on ...
Item #
570 08 10
---
View Full Detail
Top Categories
Shop Racks
By Material
Other Options