Chocolate Gift Basket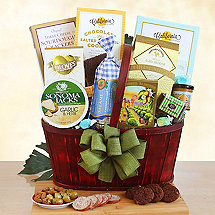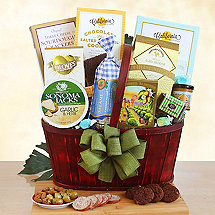 ---
---
This fun-filled basket is stuffed with treats for serious snackers. They'll devour salted caramel cookies mustard Sonoma cheese straws olives salami cheese crackers California almonds chocolate-covered graham crackers sugar cookies and yummy salt water taffy.
Item #
159 20 38
---
View Full Detail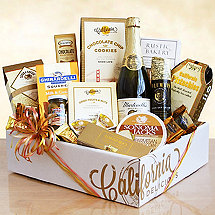 Sparkling California & Artisanal Delights Gift ...
$99.95
Quick View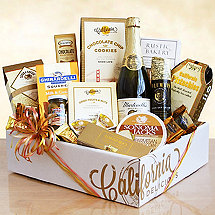 ---
---
An array of California artisanal foods are featured in this generous California Delicious gift box perfect for family friends or clients. Gourmet treats from throughout the state will please any palate. They will enjoy a bottle of Martinelli's Sparkling Cider Sonoma Cheese straws California pistachios Merlot cheddar cheese Almond Roca Ghirardelli creamy milk and caramel chocolate squares Rustic Bakery crackers Chocolate chip cookies Viva Sonoma biscotti California dried fruits and nuts ...
Item #
159 20 35
---
View Full Detail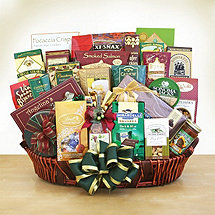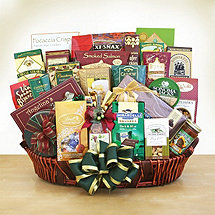 ---
---
Stupendous in size and hugely satisfying to all who partake this selection's lavish proportions are only equaled by its formidable tastiness! They'll delight in white and milk chocolate covered sandwich cookies Ghirardelli milk and caramel squares snack mix Ghirardelli dark and mint squares Nunes farms cashews salsa Ghirardelli Masterpiece collection chocolate assortment butter cookies chocolate dipped biscotti chocolate truffles chocolate wafer cookies cranberry harvest medley ...
Item #
159 20 22
---
View Full Detail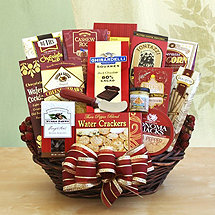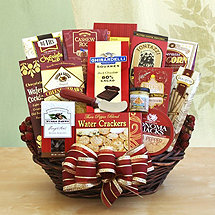 ---
---
This bountiful basket is big enough for the whole crowd. Satisfy their cravings with our incredible collection of Ghirardelli dark chocolate squares Sonoma cheese straws Napa Valley mini mustard mocha almonds water crackers cheese Dolcetto cookies hot cocoa mix chocolate wafer cookies chocolate chip cookies Cashew Roca butter toffee pretzels English tea cookies peppermint popcorn and a wooden cheese knife. You'll receive kudos from the entire crew!
Item #
159 20 25
---
View Full Detail