Cabernet Durable Glassware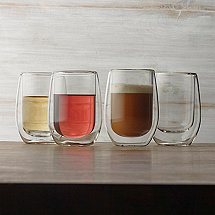 Steady-Temp Double Wall Cabernet Stemless Wine Gla ...
$39.95
Quick View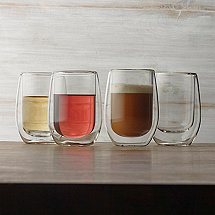 ---
---
Keep cool drinks cool hot drinks hot. Cheers to this glassware for pulling double duty! Its unique mouth-blown double-wall design provides extra insulation so your Cabernet stays at its proper serving temperature regardless of how long you've held the glass. It also creates a 'suspended' visual effect for a compelling presentation. Use for hot tea and coffee too! Stable durable design made of lead-free glass. Dishwasher safe. Set of 4 Size: 4-7/8'H x 2-3/4' Dia. ...
Item #
707 09 04
---
View Full Detail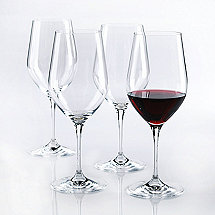 Fusion Classic Cabernet Wine Glasses (Set of 4)
Quick View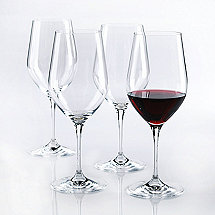 ---
$39.95
Reg. $49.95
Save 15%
---
The world's most break-resistant wine glasses! Super-strong lightweight magnesium is fused with brilliant European crystal to form the most durable wine glasses in the world. Fusion stemware withstands the wear and tear of everyday use and never dulls or clouds. Varietal-specific Fusion stems are scientifically shaped to enhance the best qualities of your wine. Lead-free and machine-made. Dishwasher safe. Save 20% on the Complete Fusion Classic Wine Glass Collection. Size: 9-7/8'H ...
Item #
704 02 04
---
View Full Detail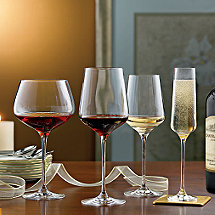 Complete Fusion Infinity Wine Glass Collection (Se ...
$149.95
Quick View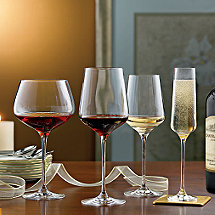 ---
---
Toast with confidence! Sleeker shapes wider bowls taller stems—the latest trend in wine stemware—take Fusion elegance and strength to the next level. Brilliant European crystal is fused with super-strong magnesium to form the world's most break-resistant glasses as lightweight and graceful as they are durable. Science meets sophistication and the result is shatterproof. Shaped to enhance the best qualities of your wine. Machine made lead-free crystal; never clouds or dulls. ...
Item #
734 87 87
---
View Full Detail
Top Categories
Shop Glassware
By Material
Other Options