About Greece
With its roots dating back some 6,500 years, Greece is one of the oldest wine producing regions in the world. Within the last few decades, the Greek Wine Region has gone through significant modernization, specifically the planting of international grape varietals. It wasn't until the early 1970's when Greece joined the European Union that its appellation laws were established. The AOSQ/OPAP is a designation for quality light wines, with 20 regions awarded this classification. The PGI wines, quite similar to Vin de Pays, are often blends of indigenous and international varietals. Many of these blends have found their way to the top of our Greek Wine Ratings. The AOC/OPE classification is specifically for liqueur wines with 8 regions holding this status.There are three main wine regions within Greece, each housing a major appellation and a grape variety exclusive to that specific appellation. Northern Greece is home to the region of Macedonia, with Naoussa being the stand out appellation. The Xinomavro grape is used to make high acid and tannic wines quite similar to those of Italy's Nebbiolo-based Barolo. Even though they are light in nature, they tend to be quite complex and unique. Peloponnese is responsible for about one third of all Greek wine production and is home to the Nemea appellation. According to our Greek Wine Reviews, these soft and fruity Agiorgitiko wines tend to be low in acid and can exhibit lush and spicy plum flavors. The last of the major Greek Wine Regions is the island of Santorini where dry and crisp white wines made from the Assyrtiko grape are renowned for their racy acidity and keen minerality. Below the AOSQ/OPAP and AOC/OPE classified wines are the PGI wines, which often are blends of local grapes with the addition of popular international varieties. Many of these blends hail from Crete, Greece's biggest and most southern island. To find out more about the wines of Greece be sure to check out our Greek Wine Guide.
Also Take a look at...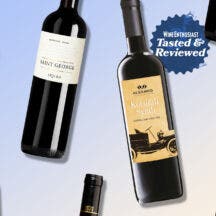 Subscribe to Our Newsletters
Sign Up For Wine Enthusiast Emails For Discounts And More!
Welcome to Wineenthusiast.com! By using our website and/or subscribing to our newsletter, you agree to our use of cookies and the terms of our Privacy Policy