Did you love Barbie as a kid, but forget about her when you got older? Us, too. But it all came rushing back when we first heard about director Greta Gerwig's Barbie, which hits theaters on July 21. The film promises to bring the doll's fantastical, pink-splashed world to life with a star-studded and diverse cast.
If the trailer is to be believed, it'll also present a more adult—and existential—version of Barbie. ("Do you guys ever think about dying?" Barbie ponders to the horror of her fellow Barbie Land inhabitants.)
That got us at Wine Enthusiast to thinking. Barbie seems to have everything: the clothes, the house, the shoes, the sports car, the (many) high-powered jobs and now a feature-length film with a PG-13 rating. But this grown-up Barbie is missing something: her own cocktail. We decided to develop one.
We knew the drink had to personify the doll, now iconically brought to life by actress Margot Robbie. It had to be sophisticated, playful and, of course, pink. We started with rose petal-infused gin, which offers delicate floral qualities and a pretty pink color. To that we added elderflower liqueur, which contributes a subtle sweetness and boosts the gin's floral notes. It's complemented by cranberry juice, which deepens the drink's blush hue and, along with lemon juice, lands a tart punch.
But what's Barbie without a bit of sparkle? That's where the bubbly comes in, delivering complexity and a hit of effervescence. To take things up a notch, we garnish the drink with pink or purple flowers; fresh orchids or dried rose petals will do the trick. (Just make sure whatever you choose is labeled edible—no pesticides in this drink, please.)
The resulting sipper—sparkling, pink and delightfully floral—tastes refreshing and delicious. It's the perfect thing to enjoy with other Barbie enthusiasts, while watching the film, of course.
How to Make the Barbie Cocktail
Ingredients
1 ounce rose gin (preferably Glendalough Rose Gin)
½ ounce elderflower liqueur
½ ounce lemon juice, freshly squeezed
3 ounces cranberry juice
Sparkling wine, to top
Lemon slice, for garnish
Edible pink or purple flowers, for garnish (optional)
Directions
1. In a cocktail shaker filled with ice, add gin, elderflower liqueur, lemon juice and cranberry juice and shake to combine, about 10 seconds.
2. Strain into a large rocks glass. Add ice to the glass.
3. Top with sparkling wine and garnish with a lemon slice and flowers.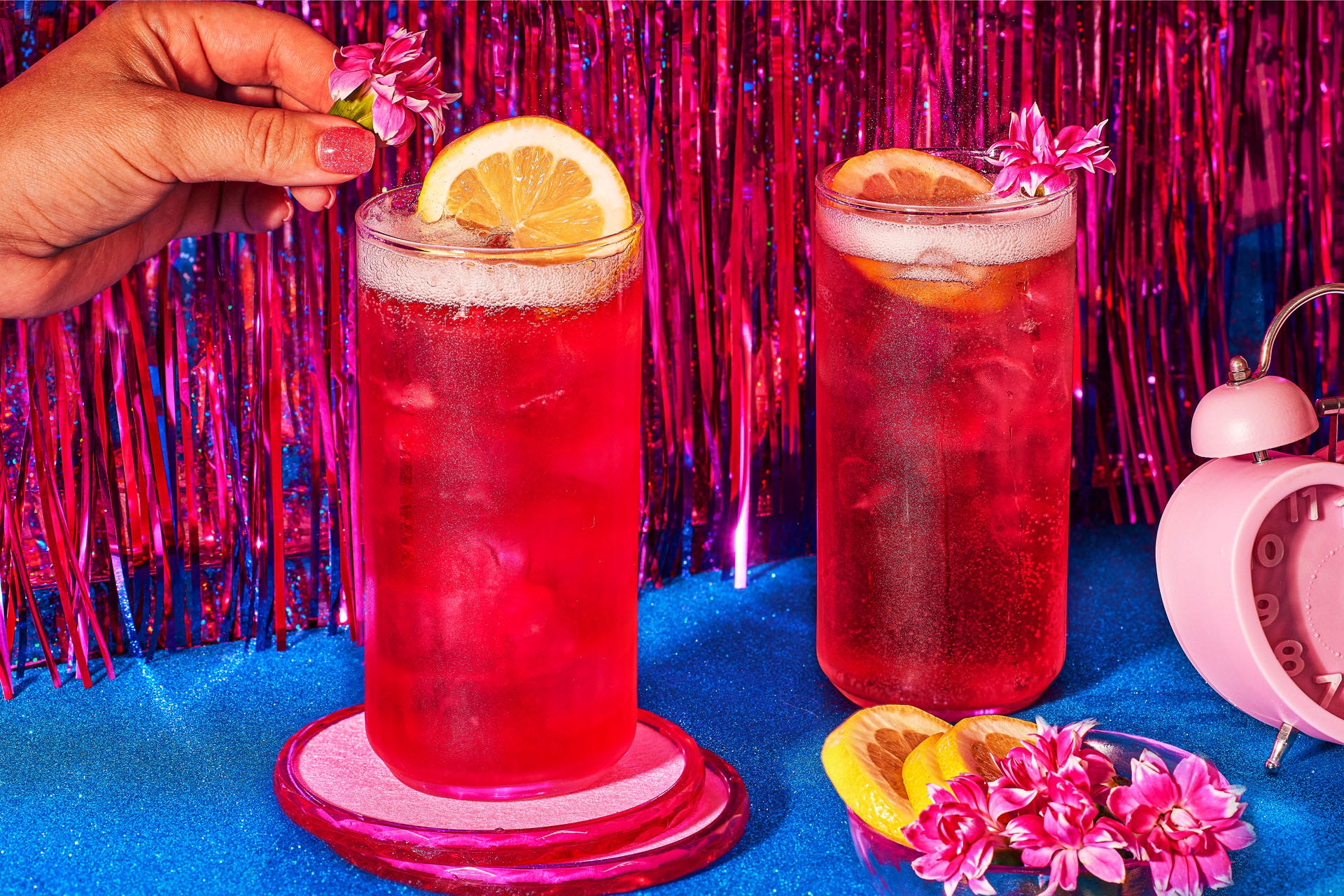 FAQs
Where Can I Buy Edible Flowers?
Sure, the garnish is optional for this cocktail. But is it really a Barbie drink without the extra (fabulous) flair? You can snag orchid flowers or dried rose petals online (just make sure they're marked edible), or perhaps exercise your green thumb and grow a range of edible flowers yourself.
What Is Elderflower Liqueur?
It's a liqueur made from elderflowers. Perhaps one of the most popular examples is Saint Germain. Said to taste like honeysuckle, Saint Germain goes great in certain margaritas, French 75 riffs and, of course, this Barbie cocktail.
Last Updated: September 19, 2023