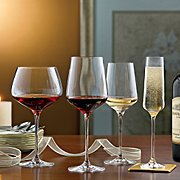 Fusion Infinity Collection
European crystal is fused with super-strong magnesium to form the most break-resistant wine glasses in the world. As lightweight and balanced as they are durable, Fusion holds the distinction of being both amazingly resilient for everyday use and exquisitely graceful for the finest of occasions.
You Break It, We Replace It.
FREE!
Fusion
10-Year Warranty.
Glassware protection guaranteed by Wine Enthusiast. See
Details.
Showing 5 Results for
Fusion Infinity