When you buy something using retail links in our stories, we may earn a commission. Wine Enthusiast does not accept payment for reviews of wines, beers, spirits or other products. Read about our blind tasting and review process here.
The season for rosé wine is upon us. Fresh vintages from around the globe have recently been released just in time for summer— though most can be enjoyed year round.
More than a wine, in recent years, in the U.S., rosé has become a lifestyle, capturing carefree days in a bottle.
Provence continues to dominate the market, capturing hearts with its delicate style and signature pale coral hue. The light and bright fruit flavors of classic Provençal rosé are backed by crisp acidity and often tangy minerality. Approachable and effortless elegance can take you from day to night, making them perfect for any occasion.
The Rhône Valley uses many of same grape varieties as Provence but deliver fleshier, more structured rosés than their neighbors. The dark-hued, age-worthy of wines of Tavel show a more serious side to rosé, demonstrating the versatility of the category.
California embraces American ingenuity, offering a diversity of styles and varieties of rosé. Pinot Noir has become a particular favorite of the Golden State, taking full advantage of the variety's inherent elegance.
Great rosé is made across the globe and is available at many different price points, whether it is cheap and cheerful meant to be crowd pleasing or more complex wine from top tier vineyards. Here are our favorites in three different price ranges.
Under $15
Antigal 2021 Uno Rosé (Mendoza); $13. Find at Wine-Searcher. Cherry aromas with a hint of struck match shape the nose… SEE SCORE AND FULL REVIEW
Brutocao 2021 Bliss Family Vineyards Estate Rosé (Mendocino); $15. Find at Wine-Searcher. This substantive wine offers ripe, rich yellow peach and black plum flavors on a smooth texture and full body… SEE SCORE AND FULL REVIEW
Château de Nages 2021 Buti Nages Rosé (Costières de Nîmes); $12. Buy at Total Wine & More. Mouthwatering notes of fresh watermelon and raspberry introduce this boldly fruity, floral rosé… SEE SCORE AND FULL REVIEW
Domaine Saint Andrieu 2021 Oratoire Saint Andrieu Rosé (Coteaux Varois en Provence); $15. Buy at Total Wine & More. Fresh and crisp, this floral wine has bright acidity… SEE SCORE AND FULL REVIEW
Raywood 2021 Rosé (Central Coast); $10. Find at Wine-Searcher. There's a rich line of watermelon syrup that is cut with a chalk minerality on the nose of this bottling… SEE SCORE AND FULL REVIEW
Renegade 2021 Rosé (Columbia Valley); $11. Find at Wine-Searcher. Pale in color, this is a blend of 44% Grenache, 31% Mourvèdre and 25% Syrah… SEE SCORE AND FULL REVIEW
Wagner 2021 Estate Bottled Dry Rosé of Cabernet Franc (Finger Lakes); $15. Buy at Vivino. Delicate aromas of strawberry and crushed stone carry to the light, tangy palate… SEE SCORE AND FULL REVIEW
Under $25
Campo alle Comete 2021 Rosatella Rosato (Toscana); $25. Find at Wine-Searcher. Inviting aromas of spring blossom, Mediterranean scrub and wild berry come to the forefront… SEE SCORE AND FULL REVIEW
Château de Berne 2021 Inspiration Rosé (Côtes de Provence); $22. Buy at Vivino. This classically mouthwatering rosé is a blend of Grenache, Cinsault and Syrah… SEE SCORE AND FULL REVIEW
Château d'Aqueria 2021 Rosé (Tavel); $20. Buy at Vivino. Opulent and juicy, this full-bodied Tavel highlights the fleshy red plum and cherry flavors… SEE SCORE AND FULL REVIEW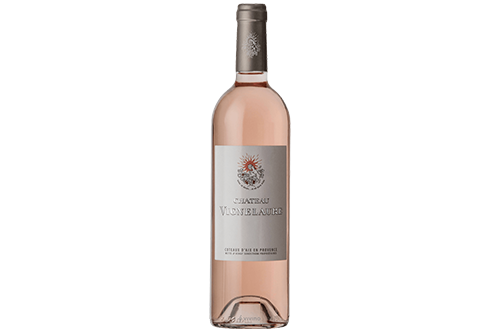 Château Vignelaure 2021 Rosé (Coteaux d'Aixen-Provence); $22. Find at Wine-Searcher. This wine is always impressive thanks to its ripe fruits and texture… SEE SCORE AND FULL REVIEW
Daou 2021 Rosé (Paso Robles); $24. Buy at Wine.com. This wine is a shade of cantaloupe, and that fruit shows on the nose… SEE SCORE AND FULL REVIEW
Delinquente 2021 Pretty Boy Rosato (Riverland); $22. Buy at Wine.com. Vibrant pink in color, this Nero d'Avola-based rosé takes a moment to reveal its charms… SEE SCORE AND FULL REVIEW
Guigal 2021 Rosé (Côtes du Rhône); $20. Buy at Vivino. Crisp, mouthwatering notes of wild strawberry and black currant extend from nose to finish… SEE SCORE AND FULL REVIEW
Le Fraghe 2021 Rodon (Bardolino Chiaretto); $18. Find at Wine-Searcher. Made by one of Italy's most respected vintners, this dry, savory rosato hits all the right notes… SEE SCORE AND FULL REVIEW
Les Vignobles Gueissard 2021 Rosé (Bandol); $25. Find at Wine-Searcher. Dominated by Mourvèdre, this wine is smooth and ripe, having a fine texture of generous red fruits… SEE SCORE AND FULL REVIEW
Private Property 2021 Rosé (Monterey County); $20. Find at Caraccioli Cellars. This more affordable second label from the Caraccioli family produces stunning wines, including this rosé… SEE SCORE AND FULL REVIEW
Under $45
Château Miraval 2021 Rosé (Côtes de Provence); $28. Buy at Drizly. Now jointly owned by Brad Pitt and the Stoli Group of vodka fame, this estate is run by the Perrin family of Châteauneuf-du-Pape… SEE SCORE AND FULL REVIEW
Domaine de la Mordorée 2021 La Reine Des Bois Rosé (Tavel); $43. Find at Wine-Searcher. A powerful core of black cherry and plum flavors reverberates throughout this profoundly ripe… SEE SCORE AND FULL REVIEW
Figuière 2021 Confidentielle Rosé (Côtes de Provence); $47. The top of the range at this producer, this is a stylish wine… SEE SCORE AND FULL REVIEW
Mirabeau en Provence 2021 Etoile Rosé (Côtes de Provence); $30. Buy at Wine.com. This wine, dominated by pepper and fresh red fruit flavors from the Grenache in the blend, is perfumed and vivid… SEE SCORE AND FULL REVIEW
Moulin de la Roque 2021 Les Hauts du Vallon Rosé (Bandol); $38. Find at E. Guigal. The perfumed, structured Mourvèdre casts its spell on this ripe, textured wine… SEE SCORE AND FULL REVIEW
Saint K 2021 Around the Way Rosé of Pinot Noir (Santa Barbara County); $28. Find at Wine-Searcher. There's a compelling balance of pink melon, pale rose and damp riverbed on the nose of this Pinot Noir-based rosé… SEE SCORE AND FULL REVIEW
Summer Somewhere 2021 Rosé (Santa Barbara County); $30. Find at Summer Somewhere Wines. Loads of cotton candy, strawberry granita and bubblegum aromas pop on the nose of this bottling… SEE SCORE AND FULL REVIEW
Tinto Amorio 2021 No Pasa Nada Rosé (Paso Robles); $46. Find at Tinto Amorio. Though its colorful label bucks the traditional listings of grape (it's Zinfandel), place (Paso Robles) and even vintage… SEE SCORE AND FULL REVIEW
Last Updated: September 28, 2022