Few grapes elicit as strong a love-it-or-hate-it response as Pinotage. With established advocates in each camp, from producers and retailers to wine writers, judges and consumers, it's easy to overlook any middle ground and head toward an extreme to plant your own Pinotage-position flag.
But why did the dialogue around Pinotage get to this point? How did a grape hailed by many as a uniquely South African variety, positioned for decades to serve as a distinct calling card for the country, become so divisive?
After all, many wine regions have experienced success in building a countrywide identity on the global wine stage by promoting a specific variety or wine type: Argentina burst onto the scene thanks to its Malbec, Sauvignon Blanc is king in New Zealand and, for many, Australia is practically synonymous with Shiraz. Not only do producers embrace the synergy between variety and terroir, but consumers eventually come to rely on such established connections as well, ultimately associating a sense of typicity and character to the wines of that country as a whole.
However, if consistent quality and identity are not available and firmly established, or are established through lesser examples and present a profile of poor characteristics, such branding can become problematic. For U.S. consumers, both of these situations contributed to Pinotage's historic struggles, and that's why opinions surrounding the grape became so intensely disparate.
"Pinotage has been the victim of the confluence of many unfortunate contributing factors," says Johan Malan, third-generation winemaker at Simonsig Estate. "Bad wines were made and sold due to disrespect for the grape variety—high yield and financial desperation—but also a lack of understanding and winemaking skill."
Before you draw a line in the sand or hold firm on one you may already have, consider the magnificence of vinous evolution.
As an agricultural product, wine is constantly subject to transformation— climate conditions, winemaking technology, vinification techniques and more continuously change and ultimately shape the final product. Today's Bordeaux bottlings are not the same as those from decades earlier; the same is true for those made from Pinotage.
South African Pinotage has grown up. It's matured. It doesn't need to beg for every ounce of attention your tastebuds can muster. It's learned its worth, shying away from giving your palate the overly lush, ripe, soft and sweet embrace it thought you wanted and instead proudly showcasing a bit more restraint and respect for its parentage. It's a new day for Pinotage and a perfect time to make a better acquaintance.
A Brief History
Pinotage was created in 1925 by Abraham Izak Perold, a chemist tasked by the South African government to venture overseas and find grape varieties that could be cultivated in the region. Perold returned with 177 samples, yet wasn't satisfied to stop there. He decided to crossbreed two of them, presumably to evoke the best qualities of both: the robust nature and growing ease of Cinsault (known locally as Hermitage) and the delicious refinement of Pinot Noir.
"Great Pinotage has good fruit purity in its youth and then develops into a very complex, savory wine with age," says Emul Ross, winemaker for Hamilton Russell Vineyards, Ashbourne and Southern Right in Hemel-en-Aarde Valley.
The first recorded commercial planting of the grape was in the Western Cape in 1943, and the variety appeared on a wine label for the first time in 1961, from the 1959 vintage. An early ripening grape, initial releases were deep in ruby color, with a strong vinous character and structure. Pinotage-based wines won championships at the 1959 and 1961 Cape Wine Shows.
But early Pinotage bottlings, especially in their youth, exhibited an acetone-like characteristic. Although intriguing to some, it was unappealing to others. While the characteristic had the tendency to disappear after a couple of years of aging, the perceived flaw was just too difficult for some to move past.
This stigma thrived for years, as more mass-produced wine regrettably perpetuated a poor stereotype alongside additional descriptors of chemical or rubber.
"It is a variety that can yield a big crop and lots of tons per hectare," says Thinus Krüger, owner and winemaker of Fram Wines, who has worked with Pinotage on and off for 21 years. "And then you end up with an insipid wine with terrible analysis. In my opinion, a big part of why Pinotage has garnered a love it-or-hate-it reputation is because there has been a lot of bad Pinotage in the market over many years."
"The perception that is generally out there that Pinotage is a big, sweet, high alcohol, astringent wine is wrong—that's just bad winemaking," says Ross. "Pinotage has thick skins, deep in color, and lots of tannin. It also tends to accumulate sugar quite quickly toward its optimal harvest time. It is an early-ripening grape often planted in warm to hot areas and, without great care, has a tendency in those areas towards over ripeness with low acids and high pHs. If the grapes are grown in an area that is less suited to the style that the producer wishes to achieve, it can produce wines that are overly sweet, alcoholic and tannic all at once."
Setting a Bar
"Pinotage was only first put on a wine label during the '60s—that is not too long ago," says Bernhard Bredell, the owner and vintner of Scions of Sinai Wines in Stellenbosch.
"Plenty of trial-and-error phases naturally unfold, and I think it will for a while to go still. There are many diverse soils and areas where Pinotage has been planted on since then, most of them just for the 'name' and not always according to terroir. This then leads to many different winery practices in handling the grape—some treat it like Cabernet Sauvignon, and some treat it like Pinot Noir."
The Pinotage Association was established in 1995 to improve the grape's reputation and lend some broader consistency to the category. The group allowed Pinotage producers to discuss and share experiences while developing criteria to define a distinctively styled South African Pinotage and identify top examples; the association organizes an annual Absa Top 10 Pinotage competition, intended to promote bench – mark varietal selections, and markets #PinotageDay on the second Saturday in October each year.
"For me, the best styles are those that are more restrained and have the lower alcohols and higher natural acids at full ripeness, which we can achieve in cooler areas and with some old heritage vine – yards in warmer areas."  Emul Ross, winemaker, Hamilton Russell Vineyards
Quality-minded producers worked to better understand optimal cultivation techniques for the variety, as well as ideal climates and terroirs for its varied final expressions.
"Pinotage, like all great varieties, is true to site—that is the most important factor," says Beeslaar. "Secondly is the way you grow it. We have found that bush vines do play an important role in the potential quality of the wine. The winemaking itself is quite different from other varieties, and you need to understand the grape to be able to make the best quality. Like any great wine, there must be specific characteristics: structure, balance, elegance, length."
Efforts to raise the bar for this heritage grape have started to show promise. Winemaker camaraderie and information sharing combined with developing technological and viticultural advancements has ushered in a new era for Pinotage.
"The perception of the old-school Pinotages is still having some negative impact on the varietal, but that is changing with time," says Tremayne Smith, owner and winemaker of The Blacksmith Wines. "Those wines were worked hard and over-oaked…and slowly but surely, there are more winemakers going for the more elegant route with the use of older vats, large format vats, whole-bunch fermentation, less extracted wines trying to showcase the parents of this variety. Therefore, the appreciation for Pinotage is forever growing."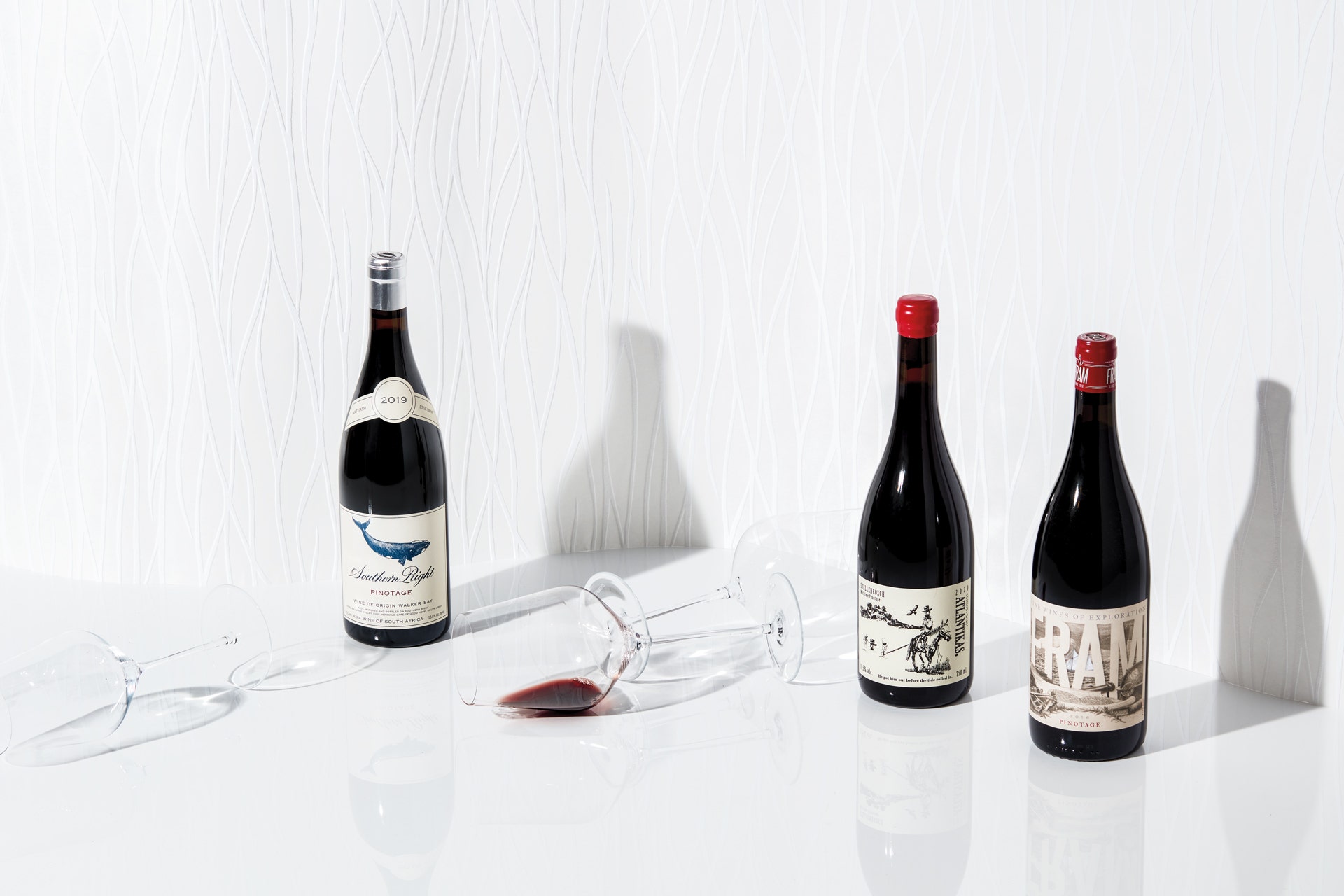 A New Wave
"Today, the average quality of Pinotage is far better than 20 years ago and is also better understood and respected," says Beeslaar. "The most outspoken people that do not like Pinotage have not enjoyed the great examples of this grape."
Presently, South Africa's third most planted red variety is experiencing a renaissance. More experience in growing and producing Pinotage has led to better understanding of the various factors that ultimately impact the final wines.
"Both the viticultural and vinification techniques have changed over the years," says Smith. "In the vineyards, where Jaco Engelbrecht is the viticultural consultant for The Blacksmith Wines, we focus on techniques to get the fruit physiologically ripe earlier so we can get the grapes off the vines before a major heat wave. This is achieved by earlier pruning in the winter months, mulching, good canopy management— removing excess shoots, bunches, breaking leaves to expose the bunches to sunlight at the right time, etc.—and in some cases, where the shoots are too thin and weak, we will leave one bunch per shoot."
Classically bold, concentrated and powerfully structured examples still abound, though they offer better overall balance and complexity than those from a decade or more prior. While attractive young, these well-crafted bottlings also showcase the great longevity that the grape can possess, often maturing well for 10-plus years from release.
"With prolonged bottle aging on older examples, Pinotage showcases its parents Cinsault and Pinot Noir more vividly, when given time for the grippy tannins to evolve and catch up with the faster-aged nose," says Bredell.
"We refined our viticulture a lot when it comes to leaf and shoot removal, and also green harvest," says Beeslaar. "In the cellar, we still do a very short ferment with intense extraction in the beginning, and less to the end of fermentation. We are much more aware of the high pH and will manage each vintage accordingly. We do not want to over extract and create aggressive, unbalanced wines. The big difference will always be the vintage. Our style has always been very similar to what we do today, but I believe the wines show a purity that perhaps was not always there in the past."
Pinotage winemakers now rely on less aggressive vinification techniques and new oak regimens to allow the grape a chance to showcase its inherent characteristics and terroir more clearly.
"When I arrived at Simonsig after my studies, our Pinotage was light and fruity, with a distinct fermentation esther aroma, suitable for early and easy drinking," says Malan. "The Pinotages we produce nowadays show more concentrated ripe fruit with more richness and body. The new oak influence is becoming less and less to make the delicious Pinotage fruit the prime focus of the wine. The tannins should be supple to drink young but still give structure to age."
"We prefer to work with a lighter hand when it comes to Pinotage, as to bring out the bright aromatic qualities of the grape," says Smith. "We use about three different techniques when it comes to the fermentation side of things: those being destemmed, whole bunch and carbonic fermentation. This depends on the vintage and the fruit coming into the cellar. Maturation is also pretty basic—older French oak barrels and maybe a small portion is matured in stainless steel tanks."
The grape responds well to all of these delicate touches.
"Of all the grapes I have worked with, it is the variety that responds the most to different techniques," says Krüger. "Higher or lower fermentation temperatures and you end up with two completely different wines.
The same for carbonic maceration, picking time, oaking, etc."
A vibrant stylistic perspective can be found in bottlings made by winemakers that treat the grape with more reverence to its lineage. Often referred to as "new wave" Pinotages, these selections exhibit surprising nuance, restraint and delicacy in structure, with a mouthwatering fruit-forward impression when young, that is overall more in line with characteristics of the grape's parentage—the elegance of Pinot Noir and juiciness of Cinsault.
"I enjoy characteristics in Pinotage that remind me of either Beaujolais Gamay (think towards Moulin-à-Vent) or Italian Dolcetto grape (think towards d'Alba)," says Bredell. "Sour cherry, plum, hints of raspberry, lilac and some intriguing earthiness or herbal notes. No new oak notes. Tannin is part of the grape's identity and should always be present in the soft, grainy, natural grape tannin profile, allowing grip of freshness with balanced acidity and not too bold in alcoholic strength."
"I want to challenge people to have a good bottle of Pinotage—not sub $10—blind, and then decide if they like it or not," says Beeslaar. "Pinotage is still a baby compared to other varieties, and the progress we have made in the last 20 years makes us very enthusiastic for the next 20."
Recently Reviewed Pinotages to Try
93 Beeslaar 2019 Pinotage (Stellenbosch); $55, Cellar Selection. Broadbent Selections, Inc.
92 Simonsig 2018 Redhill Pinotage (Stellenbosch); $38, Cellar Selection. Quintessential Wines.
91 Fram 2016 Pinotage (Citrusdal Mountain); $33, Editors' Choice. Pascal Schildt Selections.
91 Kanonkop 2018 Pinotage (Stellenbosch); $47. Cape Classics.
91 L'Avenir 2017 Single Block 02 Pinotage (Stellenbosch); $48. Folio Fine Wine Partners.
91 Scions of Sinai 2020 Atlantikas Pinotage (Stellenbosch); $23. Wines 4 the World.
91 Southern Right 2019 Pinotage (Walker Bay); $34. Vineyard Brands.
91 Stellenbosch Vineyards 2019 Bushvine Pinotage (Stellenbosch); $20, Editors' Choice. Vinamericas Selection.
90 Spier 2019 Signature Collection Pinotage (Western Cape); $14, Best Buy. Saranty Imports.
90 Beaumont 2018 Jackals River Pinotage (Bot River); $34. Broadbent Selections, Inc.
90 The Blacksmith 2019 Hell Yeah Pinotage (Paarl); $25, Editors' Choice. Pascal Schildt Selections.
90 Warwick 2019 The First Lady Pinotage (Western Cape); $15, Best Buy. Elektra Wines.
This article originally appeared in the February/March 2022 issue of Wine Enthusiast magazine. Click here to subscribe today!
Last Updated: September 28, 2022