"I couldn't sell a Chablis to save my life," says Sommelier Melissa Davis. At 31, Davis falls in the middle of the millennial generation. Before the pandemic shut down Hazel Jane's, Davis's Atlanta wine bar, she sold a case of Israeli Chardonnay every week. Guests ordered Chenin Blanc from India, Müller-Thurgau pétillant naturel, local IPA and non-alcoholic beverages.
"Our guests' interests span every sector of the menu, except for classic wines," she says.
With their anachronistic chateau label art and self-serious fan base, classic wines like Montrachet, Barolo and grand cru Burgundy have lost appeal among many young drinkers. Perception is a big part of the problem. And, real talk: many of these benchmark bottles are inaccessible for a generation with an average income that, owing to multiple recessions and decades of wage stagnation, hovers just above $35,000.
But not all classic wines are expensive, and just as their parents eventually shifted from wine coolers to first growths, millennials won't be crushing canned wine forever. They're poised to overtake fine-wine buying by 2027, according to Silicon Valley Bank's 2019 State of the Wine Industry Report.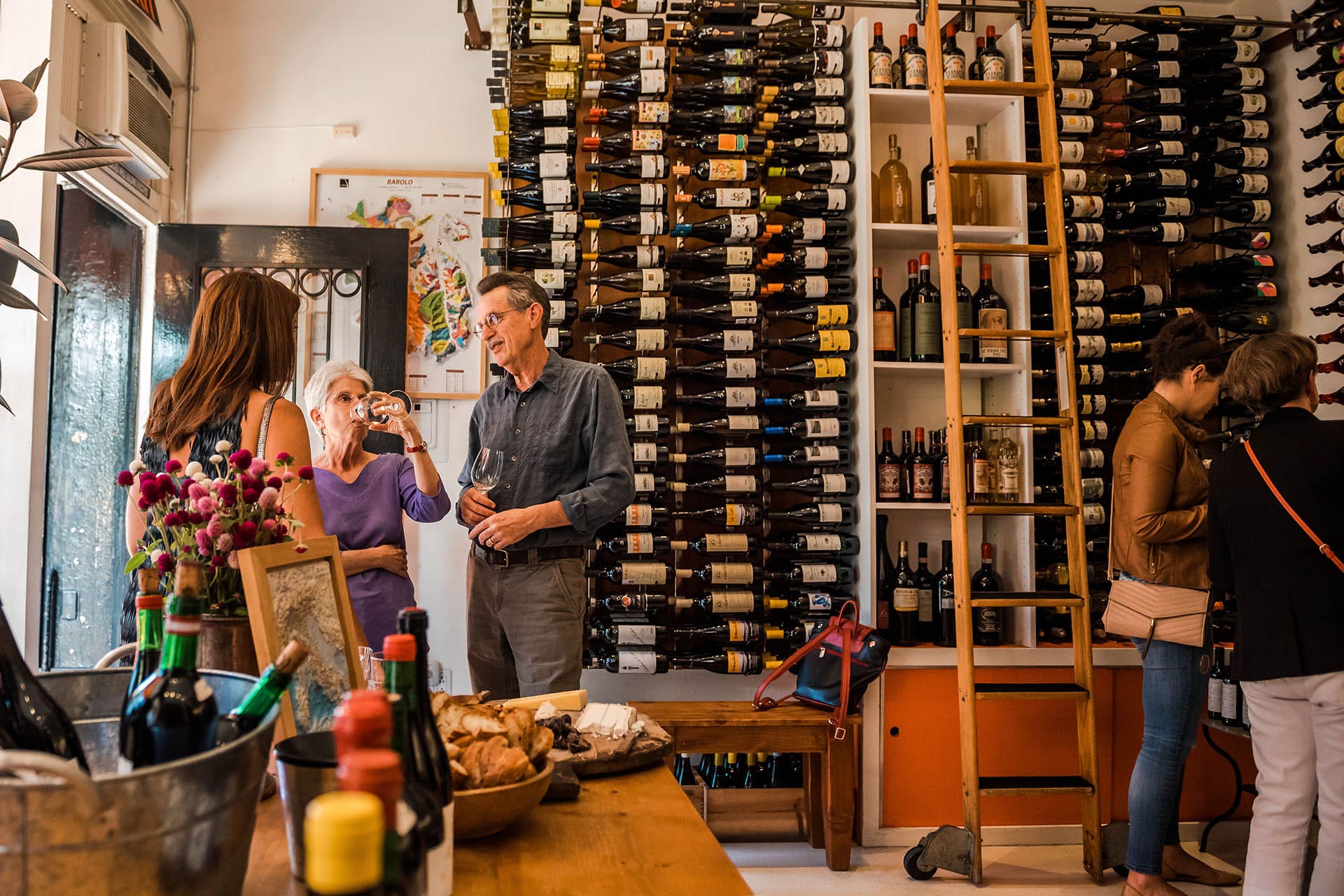 Instead of preparing for that moment, though, lots of wine brands are wringing their hands about the demise of great wine, or pandering to young drinkers with lifestyle marketing. However, affordable, classic wines could be the antidote.
Sotheby's auction house and retail store, whose reputation doesn't exactly scream accessible, is betting that young wine drinkers still want to learn about tried-and-true wines. In late 2019, they launched a Sotheby's Own Label Collection with 12 wines made in classic styles, like Sauvignon Blanc from Sancerre, Chardonnay from Burgundy and Nebbiolo from Piedmont. Each sold for $16.95 to $39.95.
"We selected the major wine regions and grape varieties from around the world and then featured some of the best producers to make classic examples from each region at an affordable price," says Jamie Ritchie, senior vice president of Sotheby's Wine.
Davis, too, still believes in the power of classic wines to shape drinkers' palates.
"When you drink Chablis and Rioja and know the history of Napa and the Willamette Valley, it gives you more perspective when you delve into the Finger Lakes, Hungary and Slovenia," she says.
We asked sommeliers and retailers across the country to tell us about their favorite affordable, classic wines—bottles that embody a place, grape or style of winemaking.
Amy Racine | JF Restaurants | New York City
Robert Mondavi 2016 Cabernet Sauvignon (Napa Valley); $34
"Robert Mondavi is the father of modern Napa Valley winemaking, and his family's investment into the land really made it a mecca for great Cabernet and Chardonnay," says Racine. "His Cabernet, in particular, is one of the most important wines to understand when talking about Napa Valley. Geneviève Janssens is the longtime director of winemaking, and her 2016 is a great benchmark for California Cabernet Sauvignon. It's full bodied with dark fruit flavors like currant and clove."
Femi Oyediran | Graft | Charleston, SC
Arnaud Lambert 2018 Clos du Midi Blanc (Saumur); $24
"It's hard not to love a good bottle of Chenin," says Oyediran. "But to see a wine with such typicity and flavor at this price point is reassuring that there are still many things to be enjoyed and discovered in the wine world that won't put a hole in your wallet.
"The 2018 Clos du Midi represents the classic idea of a dry Loire Valley white. The minerality, acidity, textures and flavors of the wine are just so on point. Think green apple, herbal tea, white pear, honeysuckle and lemon. Chenin Blanc is such a good counterpart with different foods."
Felicia Colbert | Scotty-Boy | Washington, D.C.
Casa de Saima 2018 Tonel 10 Baga (Bairrada); $20
"During one of the early glacial periods, the Iberian Peninsula, and thus Portugal, was a species safe haven," says Colbert. "Because the temperatures stayed moderate, the peninsula developed and evolved in a bubble, creating hundreds of indigenous grape varieties that have survived to present time. Baga is one of those grapes, and Baga from this part of the world makes me think of the love child of a young French Pinot and Spanish Mencía living in the Jura.
"Casa de Saima's Tonel 10 tastes like expensive blackberry-fruit leather from the health food store. And it's a chameleon, the perfect bottle to go with almost everything: lightly grilled meats and seafood, pork and veggies. One bottle will feel like hardly enough once you start drinking it. Also, I support women winemakers whenever possible, and, when I drink this, I can just imagine [Winemaker Graça Miranda] biodynamically farming grapes from old vines in the north of Portugal."
Ceri Smith | Biondivino | San Francisco
Fattoria di Lamole 2013 Castello di Lamole Le Stinche (Chianti Classico); $28
"Okay, when I say Chianti, people's eyes usually glaze over and say, 'Eh, I don't like Chianti. It's grandpa's wine,' " says Smith. "Most people conjure up a straw bottle, a checkerboard tablecloth or a cheap trattoria wine, but most people haven't had a really good Chianti.
"Made by Paolo Socci, Castello di Lamole [Le Stinche] Chianti Classico comes from the highest part of the hills in Greve in Chianti. It has Sangiovese's darker berry, black fruit notes while maintaining a light bite of acidity. Paolo, now in his 70s, is far from the stodgy old man. He's young at heart, headstrong and determined to create his dreams, but he does it with a fun, cheeky mischievousness… He's a professore, a winemaker's winemaker, and he knows more about his territory and vines than anyone could imagine. You know when you meet a person from a land you have never visited and they describe their homeland? His Castello di Lamole wines do the same thing."
Peter and Orenda Hale | Maine & Loire | Portland, ME
Hervé Villemade 2018 Rouge (Cheverny); $21
"Hervé's wine has a special place at our table for being consistently compelling and affordable," say the Hales. "It's the kind of wine that we could drink every day. It makes us feel like we're taking our vitamins—invigorating and quenching while not sacrificing depth or character in the name of freshness.
"In general, the reds to which we gravitate are fresh, light and punchy with a mineral spine. Hervé's Cheverny Rouge is a standard bearer for this style, and the region of Loir-et-Cher [in the central Loire Valley], is perhaps ground zero for these so-called vins de soif. The freshness of the Gamay/Pinot Noir fruits in 2018 are the foil to little bits of dried citrus and a fennel thing. Owing, perhaps, to an abundance of flint in the soils of clay on top of limestone, the wine always has a pepper and fuzzy-talc-berry tang."
Melissa Zeman | BottlesUp | Chicago
Ingrid Groiss 2018 Grüner Veltliner (Weinviertel); $21
"I distinctly remember being 25—new to my career in wine—and responsible for bringing wine to Easter," says Zeman. "My family has a wide array of wine preferences, but I brought Grüner Veltliner and everyone asked for more. Grüner is the 'utility player' of wine: consistent, incredibly versatile and able to play many positions on the dinner table, particularly with hard-to-pair teammates like asparagus and artichokes.
"This bottle has notes of crunchy lemon and freshly zested lime with a rocky texture and tanginess, sprinkled with coarse sea salt and white pepper. Knowing Ingrid's story and philosophy makes me want to be friends with her, and drinking her wine is the closest I can get to that. In short, hers is a tale about taking risks, blazing your own trail and following your passion."
Ryan Sciara | Underdog Wine Co. | Kansas City, MO
Laurence & Remi Dufaitre 2018 Côte de Brouilly; $30
"Many drinkers' first—and only—experience with Beaujolais is with grocery store Beaujolais Nouveau," says Sciara. "But when you get beyond Nouveau, you'll find some amazing and affordable stuff out there.
"Côte de Brouilly wines tend to be a bit richer and fleshier than other Cru Beaujolais. This one is right there, with violet, smoky red and black fruits and cured meats—a beautiful mix of power and grace. Remi worked with Beaujolais legend, Jean Foillard, and he's a member of the informal group that has evolved from Kermit Lynch's 'Gang of Four.' His wines are impeccably made and clean, and they prove that natural wines don't have to be weird."
Amy Racine | JF Restaurants | New York City
Apolloni 2016 Cuvée L Pinot Noir (Willamette Valley); $26
"Pinot Noir is the most widely planted grape in Oregon, and the Willamette is a great region to know for wine, because it's right in the middle of ripe California Pinot Noir and lean Burgundian Pinot Noir," says Racine. "It tends to please a crowd, too. The 2016 Apolloni is elegant, with an underripe red-berry note—think cranberry and white strawberry. It's tart and has a subtle note of earthiness. I love this bottle because it's becoming increasingly difficult to find a low-priced Pinot from the Willamette, and this one delivers."
Jamie Ritchie | Sotheby's Wine | New York City
Sotheby's 2009 Haut Médoc; $27
"Twelve-year-old Bordeaux for $27 is outstanding value," says Ritchie. "We think this wine punches way above its price point. The 2009 is the second vintage released for Sotheby's by Château Maucamps, and it's made of a blend of Cabernet Sauvignon, Merlot and Petit Verdot. The wine is drinking beautifully with seductive, tertiary, earthy aromas and plenty of black fruit, dark chocolate and tobacco notes."
Melissa Davis | Atlanta
Viña Otano 2015 Crianza (Rioja); $17
"This producer might not be as renowned as López de Heredia or Viña Alberdi, but their wines exemplify a classic style, generations of history, and a great value," says Davis. "Viña Otano is located in Rioja Alta, an area known for high-quality, age-worthy wines, and crianza, which means it's aged for one year in oak barrels, delivers classic Rioja style at a fraction of the cost of other bottles.
"Viña Otano was founded in 1886, and it's still operated by the same family, who farms sustainably and harvests all their grapes by hand. I find this expression of Rioja one of the most palatable on the market with balanced spices and red fruits and oak that doesn't blow out the palate."
Nathaniel Muñoz | Bar Avalon | Los Angeles
Viña Progreso 2018 Revolution Tannat (Progreso); $17
"Uruguay has one of the most uniquely defined wine regions in the world due to its geography and proximity to the Atlantic coastline," says Muñoz. "I find that Uraguay's Tannat offers dark fruit flavors that are sweetly spiced and still dry with an oceanic finish. How often can you find a wine that meets all the standards of a great Rioja and can still capture uni and mussel dishes?
"I was lucky enough to be one of the first sommeliers to be introduced to these wines in the U.S. market at a special tasting at Bar Covell in Los Angeles. Viña Progreso, in particular, is making a delicious, classic glass of wine that belongs on any table. This is an opportunity to impress Michelin three-starred taste with Bib Gourmand pricing."
Last Updated: May 8, 2023