For years, Chianti Classico producers have debated how to make their appellation more readable for consumers. Unlike Barolo and Barbaresco, which delimited their crus years ago, Chianti Classico has a vast territory, large estates and a multitude of vineyard altitudes, microclimates and soils that make defining specific vineyard areas a herculean task.
However, proposals to divide the denomination by townships and hamlets have gained new momentum among producers and their consorzio.
"Instead of zoning Chianti Classico into hundreds of smaller areas that have no name recognition for consumers, dividing it by its comuni or townships and a few distinct hamlets will give consumers a better understanding of the wine and its specific origins," says Giovanni Manetti, president of Consorzio Vino Chianti Classico.
Critics argue that varied growing conditions in the sprawling communes make it difficult to distinguish a village's identity. Yet, differences exist among the townships in terms of growing conditions, history and "the human factor, such as exchanging information and experience among producers in each town," says Manetti.
Drilling down in Chianti Classico is long overdue. Of Italy's flagship wines, none create more consumer confusion, and the trouble starts with its name. Spanning eight municipalities between Florence and Siena, Chianti Classico was the original growing area in Chianti, but it's now an independent appellation.
In terms of styles, Chianti Classico ranges from light and easy drinking to complex and ageworthy. It comes in three versions, all of which must be a minimum of 80% Sangiovese.
Wines in the Annata category must age at least 12 months before release. Riserva-designated bottles must age a minimum of 24 months, while Gran Selezione, made only from estateowned grapes, either from a single vineyard or a selection of the best grapes, has to age at least 30 months.
Created in 2013, Gran Selezione accounts for 6% of total production and is considered the pinnacle of quality. Although the best Gran Selezione combine structure, finesse and aging potential, many others are dominated by invasive oak that muffles any nuance of terroir.
With notable exceptions, oak overload is a problem that's long plagued the Riserva category, too. Top Annata can be fragrant, vibrant and delicious, while others are quite simple.
Even if village recognition becomes a reality, top producers that make wines that allow their distinct growing zones to shine will remain the benchmark for Chianti Classico and its varied terroirs.
Read on to learn more about the differences between Classico's villages and top expressions from each.
Barberino Tavarnelle
In 2019, the communes of Barberino Val d'Elsa and Tavarnelle Val di Pesa merged for administrative reasons to create the Barberino Tavarnelle municipality. Located in the western quadrant of the denomination, the township accounts for about 6% of overall production. Don't let this figure fool you, however.
Some of the denomination's most celebrated estates are located here, like Isole e Olena, Marchesi Antinori's Badia a Passagnano and Castello di Monsanto.
Soils are varied, but the best sites have alternating layers of galestro, compact limestone, sandstone and clay, with veins of sand. Average vineyard elevations range from 656 feet to 1,476 feet.
Barberino Tavarnelle is home to an excellent growing district, San Donato in Poggio, where most of the best estates are located. Bordered by high hills that stretch to the south of Castellina, this area has milder winters and cooler, breezier summers when compared to parts of the denomination farther inland.
The unique microclimate allows for a long growing season that creates balanced wines known for finesse.
"The longer season, due to early bud break and cooler evenings, allows for more even ripening for Sangiovese," says Albiera Antinori, president of Marchesi Antinori. "The results are vibrant wines that are extremely elegant, but savory, without aggressive tannins.
"For our Badia a Passignano, where we produce our only Sangiovese in purezza, the refreshing nights are a consequence of the evening breezes generated by the nearby Pesa River."
Marchesi Antinori 2017 Badia a Passignano Gran Selezione (Chianti Classico); $60, 92 points. Aromas of camphor, cassis, scorched earth and violet form the nose of this medium-bodied red. Made with Sangiovese, the smooth palate offers dried Marasca cherry, coconut, vanilla and thyme alongside fine grained tannins. Drink through 2025. Ste. Michelle Wine Estates.
Greve in Chianti
One of the only four townships contained entirely within the Chianti Classico denomination, Greve is another storied municipality. Although not part of the Lega del Chianti, Greve producers point out that their township was part of the Lega di Val di Greve, which also originated in the Middle Ages.
The village has played an integral role in the fortunes of Chianti production for centuries. The Lamole area of Greve is one of the oldest winemaking areas in the Chianti hills, with wine made here since the days of ancient Rome.
North of Radda and Castellina, and west of Barberino Tavarnelle and San Casciano in Val di Pesa, Greve  sits about 19 miles south of Florence. The biggest of the Chianti Classico towns, it's a hub for tourism.
The large municipality features altitudes that range from 820 feet to nearly 2,297 feet, different microclimates and a plethora of soils including marls, calcareous clay, rock and sandstone. This all makes it difficult to assign a village identity.
The hamlet of Panzano and its celebrated growing area is part of Greve. Called the conca d'oro, or "golden basin," this amphitheater-shaped growing zone is one of the most famous areas in Chianti Classico.
It produces wines with a distinct identity. Its southern exposure and unique soils comprising compact layers of alberese and galestro yield full-bodied wines with juicy fruit, great structure and freshness.
Some 95% of Panzano's producers are certified organic.
Fontodi 2017 Chianti Classico; $39, 95 points. Fragrant and delicious, this opens with aromas of ripe black-skinned fruit, blue flower, leather, underbrush and a whiff of French oak. The full-bodied, enveloping palate delivers baked plum, Marasca cherry, licorice and a note of espresso framed in fine grained enveloping tannins that give it a smooth texture and a weightless finesse. Vinifera Imports.
Vecchie Terre di Montefili 2017 Chianti Classico; $30, 94 points. This has aromas of scorched earth, toasted nut and eucalyptus. The lean palate suggests prune, blood orange and bitter walnut alongside unripe tannins. You'll also note a green note suggesting powdered sage on the abrupt, astringent finish. Domenico Valentino.
San Casciano in Val di Pesa
In the extreme northwest part of the appellation closest to Florence, elevations in San Casciano range from 492 feet to 1,476 feet. Despite its northern location, grapes here ripen earlier, and this is always the first area to harvest, thanks to the combination of soils and microclimate. Soils are mainly ancient river deposits and gravel, with a presence of fine lake and alluvial deposits in the lower areas. The northeast has sandstone, and the southeast has marls and calcareous clay.
Chianti Classico from San Casciano is fragrant, fruit forward and generous, with crunchy berry sensations and rounded tannins.
Principe Corsini 2016 Villa Le Corti Cortevecchia Riserva (Chianti Classico); $25, 92 points. Aromas of spiced plum, blue flower, botanical herb and a whiff of cedar lift out of the glass. Made with organically farmed Sangiovese and 5% Colorino, the smooth, savory palate features juicy Marasca cherry, licorice and tobacco alongside supple tannins. Fresh acidity keeps it balanced. Total Beverage Solution. Editors' Choice.
Gaiole in Chianti
Like Radda and Castellina, Gaiole lies entirely within the denomination and is considered one of the three historic Chianti territories.
Lying on the appellation's eastern border, it's another wild, wooded and rocky area with steep inclines.
Gaiole's namesake village is quaint, but the production area sprawls with diverse altitudes and microclimates, and although limestone is particularly common, soils are also varied.
Gaiole's wines tend to have firm tannins, bright acidity and mineral sensations. The commune is also home to Monti, a celebrated subzone that yields wines with exceptional class and serious aging potential.
Some of the finest estates are located here.
"The territory of Gaiole is very large and extremely diverse, almost a small-scale replica of the denomination," says Roberto Stucchi, co-owner and winemaker of Badia a Coltibuono. "One can find here some of the lowest-altitude vineyards [755 feet], and some of the highest [2,132 feet] in the appellation as well as some of the warmest and driest microclimates of Chianti in the southern tip, and maybe the coldest and wettest around the town itself. All soil types are represented somewhere in this commune."
Stucchi suggests that Gaiole should include a subzone classification with four zones that are separated by the waterways.
"However, most of the commune is defined by a very abundant quantity of limestone, so it has some of the most basic soils and some of the rockiest," he says.
"The whole territory has another thing in common: the cooling effect of the Monti del Chianti that makes the climate relatively mild and with significant temperature fluctuation even in the hottest summers."
He'd like to see "a system of subappellations for all the categories, particularly the Annata," which he feels is the most expressive of each zone.
Castello di Ama 2017 San Lorenzo Gran Selezione (Chianti Classico); $60, 95 points. Underbrush, ripe black-skinned fruit, new leather and violet mingle with a whiff of exotic spice on this fragrant, elegantly structured red. The medium-bodied palate delivers ripe black cherry, cassis and star anise framed in polished, enveloping tannins. It shows the firm's hallmark of finesse and impeccable balance, not easy to achieve in this scorching vintage. The Sorting Table.
Badia a Coltibuono 2018 Vino Biologico (Chianti Classico); $22, 92 points. Fresh and fragrant, this has vinous aromas of red berry, blue flower and dark culinary spice. The bright savory palate doles out crushed raspberry, red cherry and baking spice alongside vibrant acidity and taut polished tannins. Dalla Terra Winery Direct.
Castelnuovo Berardenga
Located in the extreme south of the denomination, Castelnuovo Berardenga produces wines that are often described as having Brunello-like structures. The village has two distinct areas that form a butterfly shape. Both "wings" have elevations that range from 820 feet to nearly 1,640 feet. In the north, soils are mainly sand and sandstone, while farther south, there's limestone-based alberese and galestro.
The variable soils, altitudes and microclimates make it difficult to generalize, but the best boast elegance, intensity, tannic structure and longevity.
"I'm in favor of zoning, but real zoning should go much more in depth, looking at soils and microclimates that can transform a good wine into an outstanding wine," says Leonardo Bellaccini, enologist at San Felice. "In the meantime, I think a geographical splitting of the denomination into the name of the township is the first step."
San Felice 2016 Il Grigio Gran Selezione (Chianti Classico); $50, 95 points. Classic varietal aromas recalling underbrush, blue flower, wild berry and crushed aromatic herb form the nose. Savory and smooth, the elegantly structured palate features juicy black cherry, cassis, dark culinary spice and tobacco alongside taut refined tannins. Fresh acidity keeps it balanced. Drink 2022–2036. Vision Wine & Spirits. Cellar Selection.
Valiano 2016 6.38 Gran Selezione (Chianti Classico); $35, 93 points. Aromas of black-skinned fruit, truffle, leather and mocha slowly emerge from the glass. Made with 90% Sangiovese, 7% Cabernet Sauvignon and 3% Merlot, the linear, elegantly structured palate features prune, cassis and chocolate alongside fine-grained tannins. It closes on a note of crushed herb. 8 Vini, Inc.
Radda in Chianti
One of the four villages entirely in the growing zone, Radda is also one of the most historic municipalities in Chianti Classico. Along with Gaiole and Castellina, Radda was one of the three (or four, depending who you ask) original townships that made up Chianti. It's also an integral part of the Lega del Chianti, a military organization formed in the Middle Ages to defend these three comuni from attacks.
"Radda was the capital of the Lega del Chianti, which was the main administrator of the law, economy, agriculture and, obviously, wine production," says Michele Braganti, owner of Monteraponi and a  longtime proponent of Classico's different villages. "There are so many differences between the Chianti Classico towns.
And since it's such a big area, we need to make a general classification by towns, but also by grapes, so consumers can have a clear idea of the typicity and terroir of the wines they're choosing."
Today, Radda is synonymous with extreme elegance, as it produces wines with fragrance, finesse and longevity.
In the north, the township's soils are largely sandstone, clay and galestro, a flaky schist that consists of  layered limestone and sandstone.
In the southern part of the village, soils are mainly alberese, a hard stone composed of limestone and compact clay, and galestro.
Radda boasts some of the domination's highest vineyards, up to 1,970 feet in elevation.
"Radda's soils, combined with the large tracts of surrounding woodland and high altitude, impart particular freshness and high acidity to the grapes, yielding light-hued, luminous wines that boast restrained alcohol, fragrance, drinkability and complexity," says Braganti.
With its abundant woods and steep slopes, Radda is the wildest of the Chianti Classico villages. The average size of the wineries under vine is smaller than other towns. Of Radda's 30 estates, 70% are certified organic.
Istine 2018 Vigna Istine (Chianti Classico); $45, 95 points. Enticingly fragrant, this radiant red opens with alluring aromas of iris, perfumed berry, eucalyptus and underbrush. Racy and loaded with youthful tension, the linear palate delivers crushed raspberry, morello cherry, blood orange and licorice while tight, refined tannins and vibrant acidity provide the framework. Drink 2022–2033. Oliver McCrum Wines. Cellar Selection.
Monteraponi 2017 Il Campitello Riserva (Chianti Classico); $60, 95 points. Aromas of mature plum, blue flower and pipe tobacco shape the nose along with a whiff of leather. The focused palate delivers juicy morello cherry, blood orange and licorice while taut fine-grained tannins and fresh acidity offer lithe elegant support. Drink 2022–2029. Grand Cru Selections.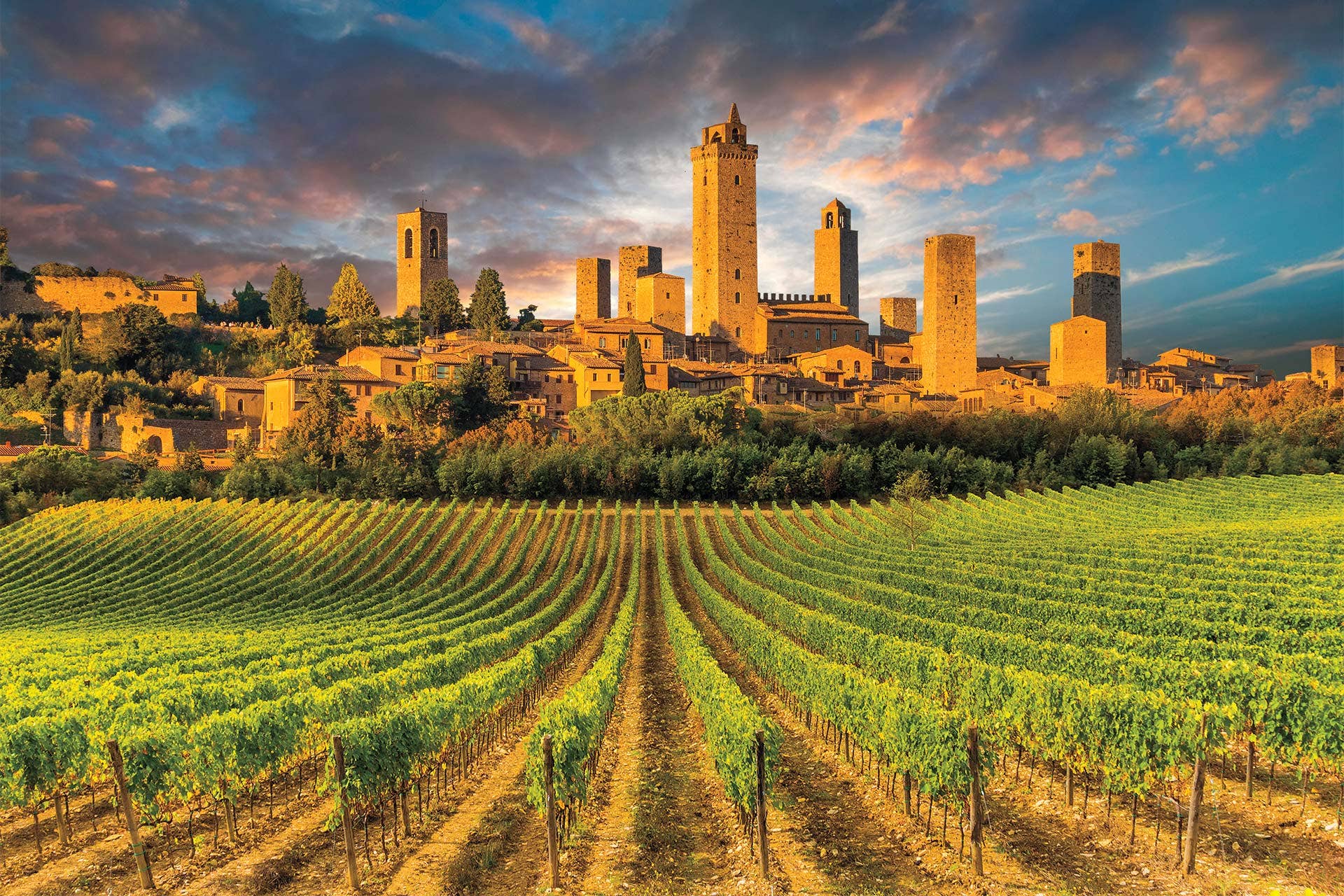 Poggibonsi
On the appellation's western border just below Barberino Tavarnelle, Poggibonsi has the smallest output, with just 0.5% of total Chianti Classico production. The elevations are moderate for the denomination, between 492 feet and 1,148 feet.
Its rocky soils are composed of sandstone, shale and a small percentage of sands and clay, while Cinciano's vineyards also contain alberese. Wines here feature ripe fruit, light spice and rounded tannins.
They tend to be accessible upon release, but they have good midterm aging potential in the best vintages.
Cinciano 2016 Riserva (Chianti Classico); $38, 94 points. Truffle, new leather, camphor and fragrant purple flower are just some of the aromas you'll find on this savory, full-bodied red. It's concentrated yet elegant, offering ripe black cherry, licorice and tobacco framed in noble, refined tannins. Fresh acidity keeps it balanced. Drink 2021–2026. Noble Harvest, LLC.
Castellina in Chianti
Another of Chianti Classico's three original districts, Castellina lies in the southeastern part of the region, entirely within the denomination. It has the highest output and the most acres registered to Chianti Classico. It accounts for roughly 20% of total production, according to statistics provided by the consorzio.
The area is defined by a small ridge that overlooks the Val d'Elsa on the southwest side, and the Val di Pesa in the northeast quadrant.
On the ridge, elevations reach nearly 1,970 feet. The southwest slope, where soils are mainly calcareous clays, descends gradually to plateaus that average 1,148 feet. There, soils are mainly alluvial deposits, with a sporadic presence of clays, marine silts and ancient river deposits.
The northeast side that borders Radda on the east and Greve to the north has a predominantly clay, limestone profile.
"Most of the soil on the Lilliano estate in the western part of Castellina is alberese, a marly limestone rich in heavy stone that delays and slows down grape maturation," says Lorenzo Landi, Lilliano's consulting enologist. It preserves grape acidity and aromatic freshness, he says.
Warm temperatures during the growing season and the clay prevalent in the soil yield potency and concentration, says Landi. The limestone component and, to a lesser extent, clay, "impart freshness, both in terms of aroma, with notes of violet and fresh cherry, and flavor, with a considerable but well  integrated acidity," he says.
"These characteristics convey lasting elegance and longevity to the wine."
From higher-elevation vineyards, the wines are generally more nervy, vibrant and refined, while lower altitudes produce wines that tend to be more generous and fuller-bodied.
Castello di Fonterutoli 2017 Badiòla Gran Selezione(Chianti Classico); $96, 91 points. Made entirely with Sangiovese planted in high-altitude vineyards, this has aromas of violet, new leather, menthol and French oak. The medium-bodied palate offers ripe Marasca cherry, espresso and licorice alongside fresh acidity and fine-grained, drying tannins. Taub Family Selections.
Tenuta di Lilliano 2017 Gran Selezione (Chianti Classico); $35, 90 points. This opens with aromas of mature black-skinned fruit, tobacco and mocha. The concentrated palate shows dried black cherry, clove and licorice alongside polished tannins. Enjoy through 2027. Vos Vinum Importing.
Last Updated: May 8, 2023