On a Saturday night in early March 2020, even with a reservation and the first flickers of pandemic worry setting in, the wait for one of Spicy Village's five tables was 45 minutes. Guests pressed against the restaurant's single unoccupied wall and drank Cruse Wine Co.'s sparkling Valdiguié from plastic cups while silently willing diners from their seats.
The reward for their patience: a table overflowing with big tray chicken, scallion pancakes, hand-pulled noodles, lamb tripe hui mei, mounds of bok choy and too many bottles of wine for a six-top to finish.
Spicy Village, located just off Forsyth Park on the northern edge of Chinatown, is among New York City's most loved BYOB Chinese restaurants, and one of the smallest. It's also become a mecca for the wine community, where the city's cognoscenti bring bottles from personal collections to taste and share over meals. Co-owner Wendy Lian often has to hustle them away from tables when they linger too long—or at least she did before the city shut down dine-in service on March 16.
Ten months later, to-go supplies occupy her tables and, rather than guests, a delivery bike hugs the wall. On a snowy afternoon in December, a single take-out bag waited by the register for pick-up. Lian, who dreams of opening a larger, grander restaurant one day, says sales are down 75%.
Chinatown's new not-so-normal
As of September, 27% of businesses in New York's Chinatown had permanently closed, according to Send Chinatown Love, a Covid-19 relief organization that helps small, Asian-owned businesses.
"These places went into lockdown at a deficit," says Louise Palmer, the group's press representative. "Racist and xenophobic rhetoric was in the ether in January and February. Chinese New Year falls around that time, and it's the most lucrative season for the neighborhood. Without that business, they were already struggling. And the 'kung flu' rhetoric didn't go away."
Compounding the problem, Palmer says that language barriers and pen-and-paper bookkeeping locked businesses out of government aid. Many, like Spicy Village, don't use delivery apps or have credit card technology, and Chinatown was one of the last of the city's neighborhoods to have outdoor seating approved. "By the time outdoor dining came, people owed months and months of back rent. It's hard to crawl out of that," says Palmer.
In the even more niche realm of BYOBs, much of the appeal lies in the alchemy of gathering with friends, eating great food, and drinking wines you love.
"Trying to recreate that experience in solo fashion with take-out doesn't make sense," says Miguel de Leon, wine director at Pinch Chinese in Soho and a BYOB regular. "You always get stares when you bring in all these bottles, but when other diners start to see what we're drinking, they're always like, 'We should have done that, too.' We never finish bottles, drink every last drop, and if someone in the room wants wine, we share. It's the most wonderfully optimistic version of reality."
A special connection to the somm community
Shakera Jones likens BYOB meals to a potluck, but for wine.
"You build a sense of community through storytelling and the bottles people bring from home," says Jones, a technology officer at Mount Sinai Health System, wine enthusiast, and the creative force behind food and wine blog Black Girls Dine Too. "It's not pretentious. No one is being boastful or pontificating. It's just, 'I got a killer bottle that's going to be fire with this noodle dish.' "
Chinatown is dotted with BYOBs, but some hold a special place in the hearts of New York's wine community, like Peking Duck House, Wu's Wonton King, Spicy Village, Hop Kee, and for late night, Great NY Noodletown. With a combination of luck, loyal diners and perseverance, these restaurants have held on through the pandemic so far. But they're bracing for a difficult winter and lackluster Chinese New Year, whose festivities begin on February 12.
"I think people will call in big to-go orders for Chinese New Year," says Derek Wu, owner of Wu's Wonton King. "I don't think they'll dine here."
Wu was able to tent a wide swath of sidewalk for outdoor dining and installed tables with lazy susans. Though business has slowed with colder weather, most of his 10 tables were occupied through Thanksgiving, and the restaurant ran brisk take-out business. One longtime customer has even sent car service for meal pick-up.
However, Wu has resisted adding delivery service thus far.
"I know it's crazy. Some restaurants have plans for delivery, but I never want that for Wu's," he says. "I want people to come to our restaurant and experience the food and service, the feeling. Our food is real Cantonese style, not Americanized, and our waiters treat customers as they would friends."
Liz Burton, who works at Brooklyn Wine Exchange, is a Wu's devotee and returned this summer for a celebratory outdoor dinner. "Going to the restaurant and having the hospitality that you've missed, we all commented that it was the first time a lot of us could remember smiling," she says.
Burton Boyle was brought into New York's wine world through Chinatown BYOBs. As she transitioned from a career in television to wine, the restaurants formed the backdrop to winemaker dinners with sommeliers and collectors. She threw a Charles Heidsieck event at Wu's with whole suckling pigs and live crab presented tableside, and she celebrated there with Verve coworkers at the wine shop's holiday party.
"It's the blending of these two hospitality worlds, like you're around the table with family at Thanksgiving," she says. "Except you can't replicate it at home."
As a young sommelier, Ashley Santoro attended BYOB dinners at Peking Duck House with sommelier Patrick Cappiello, for whom the restaurant stored a special set of wine glasses. Vintage releases, tasting groups, regional showcases and magazine events were all excuses to pile into a BYOB.
"When you're a young somm, you work six days a week and you live for a day off and those moments where you get to BYO with friends," says Santoro. "You're just like, 'I want to go ham,' and share these crazy wines that you can't really afford."
Chinese BYOBs as part of a larger ecosystem
With Caitlin McConnell, Santoro runs Leisir Wine, a Chinatown bottle shop located around the corner from Wu's. Sommeliers would stop by Leisir for magnums en route to dinner, or a bottle of one of Santoro's favorite Chinese food pairings, orange wine. She has even delivered bottles to diners at Wu's, mid-meal.
Leisir, whose selection is focused on low-intervention and natural wines, opened in mid-2019. Serendipitously, Santoro launched online sales and a wine club just weeks before the pandemic shut down New York City. Operations haven't been easy. To reduce risk of infection, Santoro and McConnell take turns manning the small shop. They're forced to shell out money to delivery services and currently have thousands of dollars' worth of claims for lost wine with Postmates.
But the business will survive.
At Mark's Wines & Spirits, a more traditional neighborhood shop, sales have fallen by 75%, according to a store manager. Mark's sits at 53 Mott Street within minutes' walk of at least five BYOBs: Peking Duck House, Hop Kee, The Original Buddha Bodai Kosher Vegetarian Restaurant, Great NY Noodletown, and Deluxe Green Bo.
Mark's caters to more casual wine drinkers—folks who grab a bottle of Beaujolais and run. It also serves many in the Chinese-American community. During the holidays and Chinese New Year, it's not uncommon for shoppers to spend $1,000 or more on wine and whiskey to bring to nearby restaurants. Those sales have evaporated.
"These small businesses are crucial to the fabric of Chinatown, culturally," says Palmer. BYOBs are part of an ecosystem that creates jobs, oftentimes for workers who support multi-generational households and for whom English is a second language. Through her work with Send Chinatown Love, Palmer, who grew up in an affluent community and is half-Chinese, discovered that one in four elder Asians lives in poverty in New York, and poor senior Asians are more likely to live with extended family than any other group.
"Chinatown is filled with rent stabilized, tenement-style buildings, and many neighborhood restaurants keep prices low because they're feeding a community without money," she says.
At Leisir, Santoro has figured out how to adjust prices and tweak inventory for a delivery-focused world. "[But] how can Spicy Village possibly incur all these fees when they're selling stuff for $4?" she says. "The same dish would be $12 anywhere else."
Value is built into the neighborhood but creates complications. Inexpensive food drives business while also crippling restaurants' ability to adapt.
While everyone, including the wine community, loves a good deal, de Leon says that somms aren't strolling into Chinatown looking for cheap food. He has spent up to $200 on fabulous BYOB lunches scheduled for noon, but "no one gets there until 1pm, and we all roll out just as they're starting dinner service," says de Leon. "Where else can you do that? Have delicious food and a pretty authentic dining experience, plus drink whatever the fuck you want? I'm happy to spend the money because I know these places are going to be great."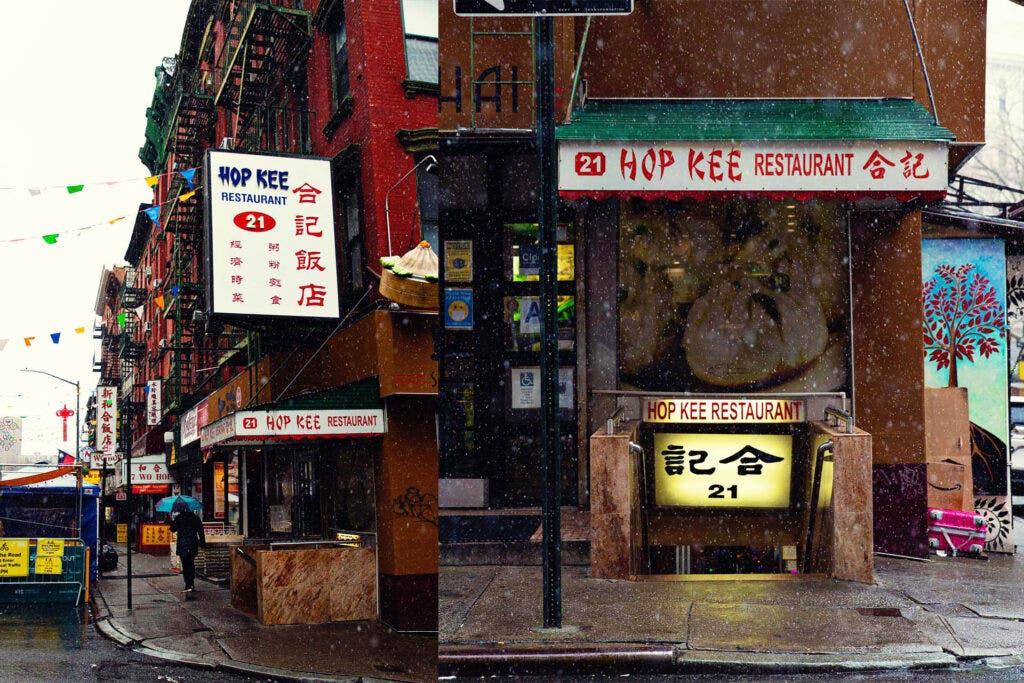 A difficult year ends while an uncertain future begins
At 1pm on a Wednesday in December, before New York City shut down indoor dining for the second time, there was a single diner at Hop Kee. Within the hour, a second guest dropped by for take-out. Wreaths and strings of lights festooned the walls, and a mandatory contract tracing log revealed that six or so parties had come in the day before, as well as the day before that. Waiters sat in booths and checked their phones; one cracked his knuckles, and it was the only sound in the restaurants save pots and pans clanging in the kitchen.
Hop Kee is a cash-only, no-delivery, Cantonese restaurant on Mott Street. De Leon calls it the "land of custom food" and fancies their chow mein, won tons and pork chop suey. With no outdoor seating and a ban on indoor dining, Hop Kee's business has been reduced to phone orders from the neighborhood.
Just across the street, Peking Duck House fares better. Its covered outdoor seating holds 10 tables, all filled on a Saturday night in December. But in accordance with city mandates, a feast of dumplings, pork skewers, Peking duck and lamb chops ends abruptly at 10pm. It's like Cinderella's ball, with an earlier curfew.
Jones and her trusted pod of dining companions returned to Peking Duck House last summer. In the past she might have brought her own glassware, to better sip a premier cru Chablis. But now she says it's just about coming together.
"Look, I'm just happy to see people, and I think people are starting to appreciate how much value there is in sitting down and sharing a meal," says Jones.
But meals feel different, just as they do in restaurants across the country with added table dividers, QR code menus, hand sanitizer and temperature checks.
"In Chinatown, that's amplified," says Jones. "You're used to sitting so close to people and seeing what everyone orders. It sparks conversation. Like, 'Shit! I didn't order that, and it looks so good.' Now, you're only interacting with the people you came with."
De Leon has only dined out a few times since March, wary of spreading the virus to workers just as he fears for his team's safety at Pinch. He's cooking more at home, though still picks up the occasional roast pork and ginger-scallion noodles from Great NY Noodletown. As much as he'd love to order the entire menu at Wu's on a Tuesday afternoon, de Leon says that regulars alone can't save the restaurants they love.
"We can hem and haw and mourn restaurant culture and what's happened, but we can also channel that grief into political will, talking to senators and congresspeople," he says.      
In the meantime, de Leon's personal wine collection is "collecting dust" as he waits for the day he and a dozen friends can return to Peking Duck House. "The first time we can go out and do a big, fun dinner, that's where we're going."
Last Updated: May 8, 2023