The greatest Chardonnay vineyards of Burgundy—Montrachet and Corton- Charlemagne, to name two—bask in near universal acclaim from the world's wine collectors. For centuries, winemakers have coveted the fruit from these grand crus, which are concentrated within walking distance of the town of Beaune.
In California, winemakers also have identified their top sites for Chardonnay—vineyards that make wonderful, distinctive and sometimes ageworthy wines year after year. But unlike Burgundy, these prized plots are scattered along more than 300 miles, from northern Sonoma County to Santa Barbara.
Many are just two or three decades old, but a few go back to the 1960s, and at least one dates to pre-Prohibition. Our California reviewers give their picks of the state's grand cru Chardonnay vineyards and call out the producers making wines from them.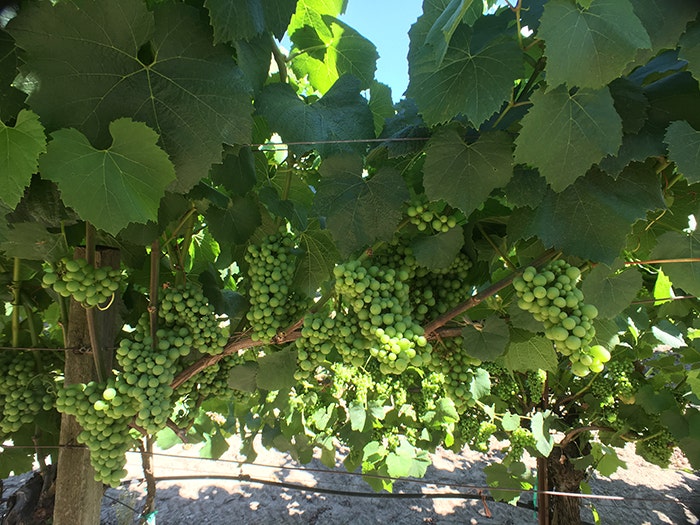 Ritchie Vineyard, Russian River Valley
Farmed since 1972 by Kent Ritchie, a Detroit transplant and former semipro hockey player, the vineyard is a place that winemakers revere as a site of rare intensity and complexity, located along Eastside Road near Forestville. "Smack dab in the middle of the Russian River Valley appellation, its climate is a great balance of cooling ocean fog and slightly warmer inland temperatures," says winemaker David Ramey, who has worked with the site for 15 years. "There's always great acidity, but…the slightly inland location provides an extra richness that adds to the deliciousness."
Next in terms of importance, Ramey says, is the soil, which is Goldridge loam speckled with gravel. It provides great drainage while limiting vine vigor and yield. Third, the clone, the majority of which is Old Wente, provides what he believes to be a classic Chardonnay profile, without tropical fruit notes.
"Next, vine age," Ramey says. "It's rare to have access to 45-year-old Chardonnay. This, I think, is where the depth and length on the palate comes from. And lastly, the careful attention of Kent Ritchie, who oversees the farming with a detailed eye." —V.B.
Wines
Savoy Vineyard, Anderson Valley
A tiny 5.5-acre parcel of Chardonnay in the cool "deep end" of Anderson Valley first planted in 1991, it came along with 35 acres of Pinot Noir when Napa-based FEL bought the property in 2011. Radio-Coteau first put Savoy Chardonnay on the map. FEL winemaker Ryan Hodgins credits light yields and afternoon breezes for the wines' great balance. —J.G.
Wines
Bacigalupi Vineyard, Russian River Valley
The vineyard dates back to 1956, when Helen and Charles Bacigalupi bought 121 acres along Westside Road outside of Healdsburg. It's maintained today by the third-generation, twins Nicole and Katey Bacigalupi, with their parents, John and Pam, who grew up in the Korbel sparkling wine family. The vineyard found fame 40 years ago when it sold Chardonnay grapes to Chateau Montelena, which made the winning white at the 1976 "Judgment of Paris" tasting. —V.B.
Wines
Rochioli Vineyard, Russian River Valley
The pioneering Rochiolis have several vineyard sections across 140 planted acres, including Wente, Hanzell and Mt. Eden selections of Chardonnay within Sweetwater Vineyard, Rachael's Vineyard, South River, Little Hill and River Block. It was first tended to by Joe Rochioli Sr., and his son, Joe Jr., has been on the property since he was born in 1934. He planted Pinot Noir first, in 1968, followed shortly after by Chardonnay. Today, son Tom Rochioli makes the family wines. —V.B.
Wines
Zio Tony Vineyard, Russian River Valley
In 1990, Lee Martinelli Sr. planted Zio Tony, his uncle's former apple orchard. The property, a 45-acre plot with low yields and Goldridge-rich soil, transformed Martinelli from high school teacher to farmer. He planted here further in 2001 and 2006. Patz & Hall has made a Zio Tony Chardonnay since 2003, capturing its high acidity, lush mouthfeel and flavors of honey, peach and apricot. "The Martinelli family does some of the best farming in Sonoma County," says Anne Moses, one of Patz & Hall's founders.  —V.B.
Wines
Durell Vineyard, Sonoma Coast/Sonoma Valley/Carneros
Rob Harris, vineyard manager for Durell, calls its land a clash of geographic forces in an area of great transition.
"Few, if any other vineyard properties can boast such a diversified topography and related effects in such a relatively small and finite physical area," he says. "These differences have become the principles and hallmarks of Durell's long history of producing Chardonnay in a wide array of styles, from many producers."
On the western edge of Sonoma Valley, with areas that fall within the Sonoma Coast appellation and portions that straddle Carneros, Durell's soils are highly differentiated in structure and composition. Light, sandy soils can typically be found beneath the gentle slopes of the vineyard, with heavier, darker soils within its subvalleys.
"Durell can be imagined as a microcosm of quality Chardonnay production unlike anywhere in the world," Harris says. "It just so happens that many of these divergent influences and inherent differences are prevalent and powerful in just over 160 acres on one property." —V.B.
Wines
Richard Dinner Vineyard, Sonoma Mountain
This northwest-facing plot sits between 600 and 800 feet in elevation and was first planted to Chardonnay by Buddy Dinner in the 1980s. Here, the grapes grow long and slow, thanks to cool breezes that sweep in via Bennett Peak and the San Pablo Bay, and the fog that parks at night. Paul Hobbs has long featured this vineyard as his flagship Chardonnay, capturing its combination of richness and acidity, accented by beautiful floral aromatics and baked pear. —V.B.
Wines
Charles Heintz Vineyard, Sonoma Coast
Family-owned since 1912, Heintz is set along the second ridge in from the Pacific Ocean at 900 feet above sea level. Half of third-generation farmer Charlie Heintz's 100 Goldridge-rich (sandy loam) acres are planted to vines. Chardonnay makes up 25 of the acres, with the original plantings dating to 1982. Cool yet protected from the extremes of the Pacific, the grapes mature in a relaxed state, marked by balanced acidity. —V.B.
Wines
Hanzell Vineyard, Sonoma Valley
Founded in the 1950s outside the town of Sonoma on a steep outcropping of the Mayacamas, Hanzell has just 46 planted acres, offering ageworthy Chardonnay as well as Pinot Noir and Cabernet Sauvignon. The Ambassador's 1953 Vineyard, a 2-acre plot, is the oldest continuously producing Chardonnay vineyard in North America, responsible for what is now called the Hanzell Clone of Chardonnay. For 35 years, Jose Ramos Esquivel has tended the vineyard, known for its rocky, terraced, contoured terrain. —V.B.
Wines
Mount Eden Vineyard, Santa Cruz Mountains
Fine California winemaking began in the Santa Cruz Mountains in the late 1800s with Paul Masson. Masson recommended this precipitous plot of land to his protégé, Martin Ray, who planted it in 1943. The soil is Franciscan shale, and the bud wood is French in origin, perhaps from Corton-Charlemagne, though no one knows for sure. Half of the property's 40 acres are planted to Chardonnay, with the remainder a mix of Pinot Noir and Cabernet Sauvignon.
"Our wine has a more savory-driven character versus fruit-driven," says Ellie Patterson, who's run Mount Eden with her winemaker husband, Jeffrey, since the early 1980s.
"It tends to be a little more like white Burgundy, and our wine ages so well because of the climate and the soil and the clonal selection."
Further evidence: What's the most prominent heritage clone of Chardonnay in America? Mount Eden. —M.K.
Wines
Hudson Vineyard, Carneros
Lee Hudson's 2,000-acre spread in the heart of Carneros has had wine grapes since the 1970s. Today, he sells them to 35 producers. Steve Kistler was the first to encourage Hudson to get into fine-wine growing, especially Chardonnay, which Hudson began planting in 1982. He began with 10 to 15 acres at a time, most to what's called Old  or Shot Wente. He's focused on heritage selections ever since. —V.B.
Wines
Hyde Vineyard, Carneros
Chardonnay is priority No. 1 at 200-acre Hyde, where the oldest block is 35 years old. Grower Larry Hyde suspects it's  one of the oldest Chardonnay blocks in California, still on AXR rootstock and challenged by phylloxera, the cuttings first procured from Wente. Hyde has donated Chardonnay clones to Foundation Plant Services at University of California (Davis) to be heat-treated and made available to the public, including one known as the Hyde clone. —V.B.
Wines
Wente Estate Vineyard, Livermore Valley
Wente is virtually synonymous with California Chardonnay. A large portion of the state's 100,000 Chardonnay acres are populated by vines descended from those planted on the family's Livermore Valley property in 1912. In 1936, Wente was the first to put "Chardonnay" on its labels, and today, the winery produces 250,000 cases annually. The portfolio's two most distinctive Chardonnays are made in small quantities: layered and ageworthy Nth Degree, and crisp, unoaked Eric's Small Lot. Both come from 11 acres in long-held estate vineyards, where the soil is deep and gravelly, and daytime breezes and nighttime lows encourage complex flavor development. Fifth-generation winemaker Karl D. Wente says the combination of Old Wente Clone or 2A—easy to recognize for its "hens and chicks" berry sizing—and the more vigorous Clone 4 is a winner. "It's not just luscious fruit that comes through, but rather luscious fruit that's layered with a really interesting intangible minerality," he says. —J.G.
Wines
Thomas Fogarty Vineyard, Santa Cruz Mountains
Planted more than 30 years ago at nearly 2,000 feet above sea level, on the top of Skyline Ridge, this vineyard is sometimes not harvested until November.
"The flavors are unmistakably California, but there is a structure that's not particularly common here," says Nathan Kandler, the winemaker. "Doctor Fogarty's decision to plant on the northern Skyline ridge was, at the time, seen as slightly crazy." —M.K.
Wines
Stony Hill Vineyard, Spring Mountain
One of the Napa Valley's earliest wineries, Stony Hill was established in 1943 on a ridge north of St. Helena. It began as vineyards, and in 1952, founders Fred and Eleanor McCrea added a commercial winery to make Chardonnay, Riesling, Gewürztraminer and Sémillon. The McCreas are thought to be among the first growers in California to plant Chardonnay following Prohibition. Their wines are lauded as delightfully balanced, elegant, lightly oaked and food friendly. Many have likened their Chardonnay to Chablis. —V.B.
Wines
Bien Nacido Vineyard, Santa Maria Valley
Planted in 1973 by the Miller family, this sprawling, nearly 900-acre vineyard, about one-third Chardonnay, spills out of a north-south canyon onto the east-west benchlands that rise above the Santa Maria River.
"We feel that the classic BNV Chardonnay character is most truly expressed from the bench," says Vineyard Manager Chris Hammell, who credits its gravelly, alluvial soils. Hammell says the 100 acres of own-rooted Chardonnay are particularly coveted.
"The reasons for this are a great terroir, our clients' winemaking skill and promotion of the vineyard, and the owners' unwavering commitment to the brand and the land."
Considered the "most vineyard-designated vineyard in the world," Bien Nacido rose to acclaim on the backs of such winemakers as Jim Clendenen of Au Bon Climat, Adam Tolmach of The Ojai Vineyard, and Bob Lindquist of Qupé. While most of the grapes are still sold, after more than 40 years of just growing grapes, the Millers launched their own Bien Nacido Estate wine brand in 2010. —M.K.
Wines
Sleepy Hollow Vineyard, Santa Lucia Highlands
Planted in 1972 on hillsides 13 miles south of the Monterey Bay, this 565-acre vineyard features many loamy soil types, numerous clones and a variety of aspects.
"The diversity of Sleepy Hollow gives us the ability to make wines with a range of expressions, while preserving the signature tropical fruit flavors and minerality of the vineyard in each wine," says Dan Karlsen, a winemaker for E&J Gallo, which purchased the vineyard and Talbott Winery last year. —M.K
Wines
Double L Vineyard, Santa Lucia Highlands
Owner Dan Lee, the founder of Morgan Winery, says these 48.5 loamy acres make up the only organically farmed vineyard in the appellation, and that its north-south row orientation captures the chilly effects of the nearby Monterey Bay best.
"In the mouth, they display the fleshy richness or a yummy factor that make Chardonnays so popular, but this richness is held in balance with the natural acidity of our sub Region I coolness," he says. —M.K.
Wines: Morgan
Nielson Vineyard, Santa Maria Valley
Uriel Nielson planted this as Santa Barbara County's first commercial vineyard in 1964. Byron Winemaker Jonathan Nagy says the site—sandy soils with outcrops of shale and limestone—benefits from cool spring and summer temperatures.
"This lends itself to more hangtime for flavor development and lots of natural acidity," says Nagy. "We often get bud break in mid-February because of our mild winters." —M.K
Wines
Talley-Rincon Vineyard, Arroyo Grande Valley
In 1984, the Talley family recognized that the calcareous clay soils seven miles from the ocean would be a special place to grow Clone 4 and other Wente clones of Chardonnay.
"It's a cool site that affords a long growing season with concentrated flavors at relatively low brix levels," says Brian Talley. "The wines always have distinct minerality." —M.K
Wines
Sanford & Benedict Vineyard, Sta. Rita Hills
There's still healthy 44-year-old Chardonnay here planted on its own roots in 1972 by Richard Sanford and Michael Benedict. This gently sloping, north-facing vineyard sits on calcium-rich, oceanic soils on the south side of the appellation.
"The breezy, maritime climate, combined with a very long growing season, gives us richly textured Chardonnay that has a firm backbone of acid," says Steve Fennell, the winemaker for Sanford Winery. "The wines are quite distinctive in their flinty, mineral qualities along with saline notes. They have as much in common with their counterparts in Burgundy as they do the more fruit-forward Chardonnays coming from most of California."
Of its 144 acres, 23 hold those old 1972 vines. Since taking ownership in 2007, the Terlato family has grafted an additional 10 acres over to Chardonnay. —M.K.
Wines
Mt. Carmel Vineyard, Sta. Rita Hills
Unlike much of the appellation, this vineyard faces due south, giving the resulting wines a creamy richness as well as the electric acidity typical in this gusty, cool climate. The vines were planted on loose, well-drained clay, limestone and diatomaceous earth soils at elevations of 800 to 1,000 feet back in 1990. —M.K.
Wines
Rancho Salsipuedes Vineyard, Sta. Rita Hills
Home to Bentrock and Radian vineyards, this windswept site is the farthest southwest boundary of the appellation.
"It's so extreme out there," says winemaker Matt Dees of The Hilt, who loves the combinations of soils and aspects. "It's basically 30 vineyards in one. It makes fascinating wines with freshness and vibrancy." —M.K.
Wines
Last Updated: May 4, 2023