For those who prefer their drinks "on ice," ice bars offer an exciting way to enjoy a night out with your favorite cocktail in a frosty climate. Located in tourism destinations worldwide, ice bars are novelty experiences that include drinking glasses, sculptures and seats all carved out of ice. Some ice bars are open year-round, while others are rebuilt each winter by talented ice sculptors. 
If you're craving a chill place to grab a drink on your next adventure, check out six of the coolest ice bars around the world. 
Orlando, Florida 
In the center of the Sunshine State lies this bar made out of 70 tons of ice. Guests are greeted by an ice princess and the menu features signature drinks like the Snow Cosmo, made with peach vodka, and warm comfort foods like soft pretzels, bacon mac and cheese, and parmesan truffle fries. The boisterous bar includes DJs, a dance floor and VIP bottle service. Ideal for large groups, it caters to those who want to party in a frozen wonderland. 
Stockholm, Sweden 
Within the Hotel C Stockholm in Sweden's capital, this watering hole believes itself to be the world's first permanent ice bar. The temperatures here are kept at -5°C (23°F), and everything from walls to glasses to the hand-carved sculptures are made from ice. The theme changes every year, and the interior of the bar is carved from more than 44 tons of ice from Sweden's Torne River. A ticket gets you a 45-minute visit and a beverage, and guests receive gloves and a cape upon entrance. Kids are also welcome; while the bar doesn't serve food, it does have a colorful selection of alcoholic and non-alcoholic drinks. 
Las Vegas, Nevada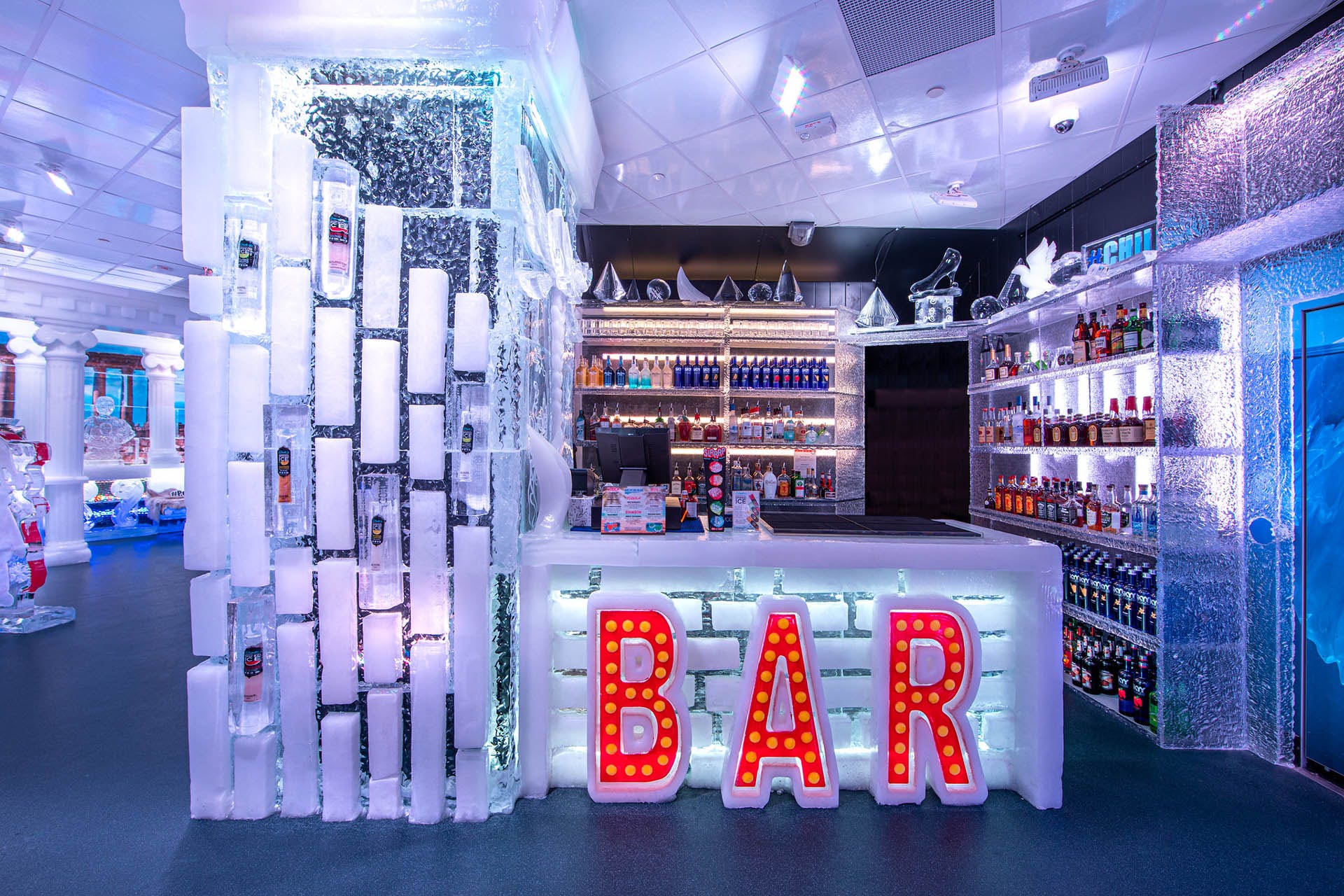 With three different locations throughout Las Vegas—in Mandalay Place, the Venetian and on The Linq Promenade—the minus5° Ice Experience is a welcome reprieve from the Nevada heat. Constructed from 90 tons of ice, each outpost has ice seats and sculptures that are constantly being updated. The bars offer packages for guests ages 12 and up that include entry, gloves and a dry-cleaned parka to stay warm. Once inside, the bars feature an LED light show and professional photographers to capture memories. Guests 21 and over can take a Fireball or Jägermeister ski shot, or sip on an Ice Mudslide made from vodka and coffee liqueur.  
Paris, France  
Located in the Kube Paris hotel, Ice Kube Paris keeps temperatures at a frigid -20°C (-4°F). Reservations are required for the adults-only space, and tickets include at least 30 minutes inside the mod, monochromatic space, as well as a coat and gloves to wear while there. A pebbled walkway leads to the bar, and the seats, tables and bar counter are all cut from blocks of ice. While there's no food served, bartenders prepare custom cocktails and shots.
Quebec City, Quebec 
Every winter, Hôtel de Glace opens its doors to thrill seekers willing to brave freezing temperatures to spend a night in the ice hotel. Made entirely from snow and ice, the hotel is located outside of Quebec City and guests can book one of the igloo-shaped rooms that are rebuilt annually. The ice hotel also has a giant bar and lounge with music, ice cups for drinks and booth seating carved out of ice. The grounds are open to the public during the day and visitors can buy day or evening passes to tour the grounds, visit the bar and admire the sculptures. 
Amsterdam, the Netherlands 
Admission to this 18-plus attraction includes access to two bar areas, one of which is heated and the other kept at -10°C (14°F), and three drink tokens. In the first heated bar area, guests can sip cocktails and warm themselves before and after they enter the ice bar. They receive a coat and gloves when they enter the ice bar, and can exchange their remaining tokens for beers, shots or orange juice. The bar's arctic nautical theme was inspired by Dutch explorer Willem Barentsz's travels, and is decked out with a ship's wheel, polar bear sculptures and sailors' skeletons enshrined in ice. 
Last Updated: May 8, 2023