"A poem, a stink, a grating noise, a quality of light, a tone, a habit, a nostalgia, a dream." That's how John Steinbeck describes the down-at the-heels district at the center of his 1945 novel, Cannery Row. The smells and sounds of the sardine canneries have long disappeared from Ocean View Avenue in Monterey. Those factories now house gift shops, chic wine-tasting rooms and seafood restaurants. Yet, the infinite ocean landscape along this rugged Pacific coastline remains stunningly poetic—a dream.
Get Outside 
With more than 500 underwater species, Monterey Bay Aquarium rules as Monterey's main tourist attraction, but even on its foggiest days, this peninsula beckons travelers outdoors.
You can simply watch the sea lions sunbathe at the wharf, or rent a kayak from Adventures by the Sea and float among them and the otters. Bicyclists can pedal along the 18-mile stretch of the Monterey Bay Coastal Recreation Trail, from Castroville to Pacific Grove. Venture farther off the coast on a whale-watching trip with Monterey Bay Whale Watch. This is one of the few areas in the world where the leviathans gather year round, so nearly every excursion will deliver glimpses of whales and dolphins.
You'll struggle to put your camera down at California's scenic crown jewel, Point Lobos State Natural Reserve in Big Sur, but do your best to stay in the moment. You won't want to miss the diverse trees, plants, wildlife and panoramic coastal views that greet you at every turn. If time allows, a day trip to Pinnacles National Park merits the hour drive, especially to witness the waterfall that cascades through Bear Gulch Cave.
Where to Eat
On sunny days, this landmark boasts the best coastal views on the planet, which stretch from the redwoods down to the crashing sea. The food at Nepenthe makes even a foggy-day visit worthwhile, especially the Famous Ambrosia burger, which goes well with a Bloody Mary.
Ted Walter and his wife, Cindy, a fisherman's daughter, catapulted cuisine on the Monterey Peninsula when they opened this seafood restaurant in 1997. Simplicity and sustainability are spotlighted in dishes at Passionfish like rockfish atop jicama-citrus salad with miso-carrot vinaigrette, and striped-bass crudo with pomegranate-ginger granita and seaweed ponzu.
Fabrice Roux, a native of the French village of Laon, delivers classical yet creative cuisine from the entire Mediterranean region in a wooded corner of the Carmel Valley. Duck, deer, deviled eggs with caviar, surf and turf paella and even chorizo corndogs, as well as sweets like beignets, appear on Roux's menu that also guides diners on wine pairings.
The Salinas Valley now offers a true culinary experience, thanks to this new, modern-American restaurant Cork & Plough. Seattle-raised Chef Travis Childers and his wife, Anna, serve everything from shaved cauliflower salad to venison meatloaf with oat risotto. Anna's wine list focuses on local bottlings available by the taste, glass or bottle.
Stationed in Monterey's first firehouse (built in 1910), Montrio Bistro serves small and medium plates that are perfect for a family-style meal. Just don't expect to share the slow-cooked 48-hour bacon served with bacon-cashew butter, pickled apples and local honey. Order two, just to be safe. For a seafood feast that's fresh off the boat, have lunch at the unpretentious Phil's Fish Market, located in the ocean-side industrial area of Moss Landing. From cioppino and clam chowder to oysters, salmon and crab, if it swims, it's probably on the menu.
Where to Drink
Sip around Carmel on foot. For $65, a Wine Walk-by-the-Sea tasting passport covers visits to nine of 15 tasting rooms within one square mile. The roster includes Galante Vineyards, Carmel's first tasting room, which is run by the great-grandson of the town's founder. If you've never tried churro- or sushi-flavored beer, stop by Fieldwork Brewing, Monterey's newest taproom. It's quickly developed a cult following for the inventive brews. In addition to an extensive wine and cocktail menu, the notoriously haunted Restaurant 1833 carries a worldly collection of absinthe. The green fairy is served flaming, in what's known as the "Russian Style."
A Souvenir 
Skip novelty shops along Cannery Row that peddle overpriced T-shirts with screen-printed otters and get lost inside the Cannery Row Antique Mall. Set in a former 1920s canning company, the Central Coast's largest antique mall displays vintage treasures and collectibles from more than 100 dealers.
Where to Stay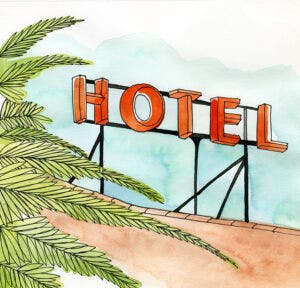 Treebones Resort in Big Sur perfected "glamping" long before the word became commonplace. If available, book the Human Nest, a wood-woven "bird's nest" that doubles as a cozy, secluded abode for two. Otherwise, the resort has a community of sunset-facing yurts, and it offers amenities like ocean-air yoga and a sushi bar.
In Carmel, pack the pups for a stay at the famously pet-friendly Cypress Inn, a historic boutique hotel co-owned by motion-picture legend Doris Day. Paws are even welcome at Terry's Lounge Yappy Hour, where guests can indulge in handcrafted cocktails that honor Day's hunky costars like Cary Grant and Kirk Douglas. —Jess Lander
Tips from Local Experts 
Sabrine Rodems, Winemaker, Wrath and Scratch Wines
In the 1990s, Sabrine Rodems worked as an electrician at the Opera House in San Francisco, as well as a rigger on film and television sets. But then she wanted to go more "science-y" like her sisters, one of whom was a doctor, the other a research scientist. "We don't need another doctor," they said. "We need an enologist in the family."
The light clicked on. "Wine is the best of both worlds," says Rodems. "I got to get my science ya-yas out and make wine, which is a really creative thing to do."
She graduated from the University of California, Davis, with a master's degree in viticulture and enology, and joined Wrath in 2004. In 2011, she launched her own label, Scratch (which is scheduled to open a Carmel-by-the-Sea tasting room). Rodems also consults for Ventana Vineyards.
"We eat a lot of Mexican food," says Rodems, who recommends the seafood cocktail at El Michoacano in Greenfield. King City now offers its first upscale experience, Cork & Plough.
Taste of the Pinnacles, a wine bar owned by the mayor of Soledad, also recently opened in King City. "It has a really nice selection, and they serve small plates."
Rodems loves to hear stories from tasting-room guests who stay at Vision Quest, a bed and breakfast that's also a sanctuary for rescued wild animals. "They say, 'An elephant brought me my coffee this morning,'" says Rodems. "People have great experiences there." Across the valley, she recommends a stay at the Inn at the Pinnacles, run by the vineyard-growing Brosseau family.
Another favorite is Pinnacles National Park. "There are easy hikes, but if you want a workout, you can go higher," she says. "And not only do you get great views, but the rock outcroppings are so unusual, like two worlds colliding."
Closer to the Monterey Bay, she suggests kayaking in the Elkhorn Slough. "Although it leads to the ocean, it's smooth and glassy, and there are all kinds of egrets and harbor seals." —Matt Kettmann
Raymond Smith, Owner, Indigené Cellars
After he grew up in Oakland, Smith worked for a bottling company in Paso Robles, and then built his own fleet of trucks that bring bottling equipment to wineries. After years of winning amateur winemaking competitions, in 2004, Smith started his own Carmel Valley-based brand, Indigené, derived from the word for "native."
"Rustica is the place I eat more than anywhere," says Smith, who often joins winemakers from Galante Family, Boekenoogen and Holman Ranch in the Carmel Valley restaurant. "It has Italian flare, but it's California cuisine."
He enjoys tasting at Bernardus. "[Its] Marinus Vineyard is right next door to the property," says Smith. "They make it in a Bordeaux style—big acid, lower alcohol, made to age. The wines will be really good in 15 years."
When it's time to hang out with his 13-year-old daughter, Roni, Smith says the Monterey Bay Aquarium on Cannery Row is the "number one place for a family-friendly experience." He enjoys the many programs that teach kids and adults about climate change and ocean acidification. "With new exhibitions all the time, it's our go-to place when we have free time," says Smith. —M.K.
Last Updated: May 4, 2023