Santa Barbara is a tale of two landscapes. On the southern shore are the red-tile roofs of Santa Barbara city. Here, small-town conveniences meet big-city attractions, from rock 'n' roll at the Santa Barbara Bowl to opera, fine art and live theater downtown.
The inland, northwestern part of Santa Barbara County is wine country, which stretches through the Santa Ynez and Santa Maria valleys. Today, the culinary and cultural activities in the valley communities of Buellton, Solvang and Los Alamos complement the strong wine scene that's existed for decades.
Get Outside
Few adventures are as rewarding as sea-cave kayaking in Channel Islands National Park, an island chain that extends 150 miles along the California coast. Santa Barbara Adventure Company leads daily tours to Santa Cruz Island for all skill levels. Want some ocean spray without all that paddling? Look for blues, grays, humpbacks and killer whales aboard the Condor Express. Something even dryer? Land-lubbers can experience everything from sunsets and sips to horseback riding and rifle shooting with Cloud Climbers Jeep & Wine Tours, which offers varied excursions in its yellow 4x4s.
View Vines Anew
The Sta. Rita Hills present stunning vistas from the ground, but the best way to see how the Pacific Ocean blows into this cool-climate appellation is from 13,000 feet up with Skydive Santa Barbara. The tandem skydiving trip offers the bucket-list thrill of a 120-mph freefall before the jumpmaster opens the parachute and you drift gently back toward Earth. On the other side of the Santa Ynez Valley, cyclists love to explore Happy Canyon with Santa Barbara Wine Country Cycling Tours, which offers several itineraries for day tours, as well as in-depth, multi-day excursions around the county.
Tapping Into Beer
Santa Barbara is burgeoning with breweries, but the suburbs of Goleta and Carpinteria are experiencing especially stunning sudsy growth. Near the college kids of University of California, Santa Barbera, Goleta offers M Special Brewing Company, Draughtsmen Aleworks, Hollister Brewing Company and Captain Fatty's Craft Brewery, all within a five-minute drive. The oceanfront village of Carpinteria holds Island Brewing Company, Rincon Brewery and brewLAB. Those craving mead, cider and other more fringe fermentables should seek out The Apiary Ciderworks & Meadery, which experiments with hopped, botanically infused and single varieties.
Cocktail King
Alvaro Rojas has been crowned champion at several recent Santa Barbara cocktail contests, thanks to the fresh ingredients and true stories that inspire his creations. Sample that ingenuity at his original Alcazar Tapas Bar in the seaside Mesa neighborhood, or his second outpost, Milk & Honey, near downtown's theater district.
Where to Stay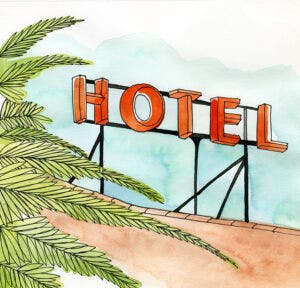 Santa Barbara's West Beach neighborhood features dozens of inns, while East Beach is home to several bigger resorts. But in the heart of it all, near the beach, Funk Zone and bustling State Street, sits The Wayfarer, with 27 private rooms and four shared hostel rooms that sport an urban retro-chic vibe. A bit more classical, the downtown Canary Hotel offers seasonal drinks and eats at its downstairs restaurant, Finch & Fork, and its rooftop pool provides views from the Santa Ynez Mountains to the sea.
Thanks to the popularity of Scandinavian design through IKEA, and cuisine at Copenhagen's NOMA, the out-of-place Danish architecture of Solvang is suddenly considered cool. The Landsby offers stripped-down, Scandinavian-style accommodations. Further up Highway 101 in the one-street culinary mecca of Los Alamos, the Alamo Motel is undergoing a makeover. It's the latest rundown motel renovation project by the Shelter Social Club, which has classed up joints in Santa Barbara, Ojai and Solvang as well.
Where to Eat
Proprietor Will Henry's father founded the Henry Wine Group, so the list at this new restaurant Pico in the old Los Alamos General Store is ridiculously deep and unicorn-filled, with vintage flights that extend back decades. Rustic and rich, Drew Terp's food suits this Wild West town.
S.Y. Kitchen opened in April 2013, this has become the Santa Ynez Valley's preferred place for Italian comfort food, prepared by the exuberantly
friendly owner and chef Luca Crestanelli and his brother, Francesco, both from Verona. Exotically spiced drinks crafted by Mixologist and Bar Manager Alberto Battaglini also merit a visit.
Industrial Eats is the brick-and-mortar extension of Jeff and Janet Olsson's New West Catering that elevated Central Coast wine-country cuisine over the past two decades. A casual walk-up experience, it delivers wood-fired goodness, from lamb and tzatziki-topped flatbreads to pancetta-wrapped shrimp. Tumblers of local wine cost less than $10, and there's almost always a winemaker eating there.
Somerset opened after a multimillion-dollar renovation, complete with century-old olive trees placed on the patio, the restaurant lured Lucques/AOC chef Lauren Herman from Los Angeles to create upscale fare in a glitzy setting. Cocktails crafted by George Piperis are jaw-dropping.
Tips From Local Experts
Chef Pink, Co-Owner, Bacon & Brine, Solvang
Chrystal "Chef Pink" DeLongpre and her wife, Courtney Rae, were just days away from moving from Santa Barbara to Los Angeles when they decided that they couldn't raise their daughter in the big city. So they turned to Craigslist, where they found a 300-square-foot former hot-dog shop for sale. The couple decided to create a hyperlocal sandwich eatery, Bacon & Brine, in Solvang, the heart of the Santa Ynez Valley.
They work with surrounding farms to find produce, and Rae pickles veggie scraps that would otherwise be tossed in the compost bin.
"We do really real farm-to-table," says DeLongpre. "We get all of our poultry and pork from a single-source farmer who [raises] the animals just for us.
"When we eat dinner out, and especially with a drink, it's definitely SY Kitchen," she says. "Their pasta is pretty darn good, and their service is great, which is huge for me."
The family lives in Los Olivos and often dines at Sides Hardware and Shoes, one block from home. "I get the burger, and they have really good drinks there," says DeLongpre. "They've got a good kids menu. And they have Taco Tuesday, which is a little more elevated."
The couple takes their daughter, 7, to Sunny Fields Park on Alamo Pintado Road, between Los Olivos and Solvang.
"It's big, and we can keep an eye on both our dog and daughter," DeLongpre says. "There are usually tons of kids to play with."
They're also fans of Ice in Paradise, the new ice rink over the mountains in Goleta.
"Besides that, we're a pretty academic, artsy family," says DeLongpre, who enjoys shopping for books at the Book Loft in Solvang and Chaucer's in Santa Barbara. "We spend a lot of time at home reading, doing art and taking care of the animals on the farm. My social butterfly days have come and gone."
Tyler Tomblin, Co-Owner, Stagecoach Wine Tours
After he worked at art galleries, surf shops and more, this Laguna Beach native and graduate of University of California, Santa Barbara, signed on with Stagecoach Wine Tours in 2003. Tomblin was elevated to partner in 2010. Today, the company has a large fleet of vehicles that guide clients to unique wineries.
"I go to Brophy Brothers a lot," says Tomblin of the two-story, harborside seafood spot. "It's got great local vibes, beautiful views, and good margaritas and Bloody Marys." He likes The Boathouse and S.B. Shellfish Company for similar reasons. "And we eat at [Mexican restaurant] La Palapa because it's kid- and dog-friendly, and can handle big groups."
For fun with his wife and kids, Tomblin hikes the San Marcos Foothills, scouts the beach for rocks from Hendry's to Mesa Lane and kayaks in Santa Barbara Harbor.
Clarissa Nagy, Winemaker, Riverbench
Ever since she worked her first harvest in 1995, this Cal Poly grad has devoted herself full-time to wine. Nagy started her namesake label in 2004, and she landed the top job at the Santa Maria Valley's Riverbench in 2012. She lives in Orcutt with her husband, Jonathan (winemaker at Byron), and daughter, Gabriella.
For Friday night dinners, they head into the vibrant restaurant scene of Old Town Orcutt. "Niya does Asian fusion and sushi, and they have Pho Fridays, so I usually get that," she says. "And my favorite at Trattoria Uliveto is [its] butternut squash and sage ravioli."
She also likes Rooney's Irish Pub, but doesn't go for corned beef. "We absolutely love the fish tacos," she says enthusiastically. "It's the last thing you would ever think."
For a fancier meal, they adore the rack of lamb at Far Western Tavern, which she enjoys with Riverbench's Blanc de Blanc bubbly. "I don't know if anyone else would love that pairing, but I do," says Nagy.
Last Updated: May 4, 2023