Ask any bartender, and they'll tell you the best drinks are those mixed in bars. But over the past few years, ready-to-drink (RTD) cocktails in cans, bottles, boxes and bags have been on the rise—and some are pretty darn good.
Don't take our word for it, though. We unofficially polled bartenders across the country about which RTDs they would recommend.
Unsurprisingly, many bartenders prefer the RTDs made by or featuring the recipes of fellow hospitality professionals. Brands in this category include Social Hour, Crafthouse, LiveWire, Drifter, Empirical, and Day and Night.
Others say they opt for RTDs that use name-brand spirits with national recognition, like bottled brand On The Rocks (purchased by Beam Suntory in late 2020), Sprezza, Lo-Fi and, again, Drifter.
And some bartenders like the RTDs made by local-hero craft distilleries, including Los Angeles-based Greenbar Distillery, Tin City Distillery in Paso Robles, California, and Manifest Distilling in Jacksonville, Florida.
Not all bartenders' picks have national distribution, unfortunately. And some of the biggest commercial names are conspicuously missing; certain mass-market brands are made with lesser-quality spirits or a malt beverage base, or may use flavorings or additives that can make a canned cocktail taste "off" compared to a freshly made drink.
Quality control notwithstanding, RTDs established a foothold in the market last year. In 2020, canned cocktail sales surged 52.7%, according to IWSR, a drinks market analysis firm. Portable drinks were in particular demand during the pandemic, as bars and restaurants were widely closed and consumers flocked to outdoor activities, many ideal for enjoying with a cooler full of drinks at hand.
In 2021 and beyond, as some bars and restaurants reopen, experts believe RTDs will need to be associated with quality, not just convenience, for the category to continue to flourish. "Premiumization" has entered the RTD lexicon, observes IWSR, as certain producers emphasize top-shelf gin in that canned G&T or opt for sophisticated-looking packaging like sleek, single-serve bottles instead of cans.
Here, bartenders share some of their favorite RTD cocktails, ideal for those relaxing at home or enjoying time outdoors at concerts or campsites. Spoiler alert: some are even served at bars.
Crafthouse Cocktails
Founded in 2013 by Chicago bar pros Charles Joly and Matt Lindner, Crafthouse was mentioned by more bartenders than any other brand.
"Crafthouse was the first RTD that really struck as being a great bar-quality craft cocktail," says Lance Bowman, beverage director for The Alderman and Pilsen Yards in Chicago. "[It] really set the gold standard."
Crafthouse's Rum Old Fashioned is his "hands down" favorite, Bowman says. "It's got amazing depth and complexity." He also lauds the Gold Rush, Southside and Pineapple Daiquiri as "ridiculously good."
What sets the brand apart, Bowman says, is that the drinks are made with premium spirits and bitters and are packaged at the same alcohol level as a composed craft cocktail would be. Bowman also praises the variety of sizes available, from single serves to 750-ml bottles to 1.75-liter boxes, which he notes he often uses for parties.
Drifter Craft Cocktails
This brand is cofounded by Pete Nevenglosky and Nate Whitehouse, whose company Drifter Spirits brought Avuá Cachaça and Svöl Aquavit to the U.S. The cocktails debuted in June 2021.
The cans feature some spirits from their portfolio and others from U.S.-based craft distillers, showcased in recipes like the Passion Fruit Caipirinha (Avuá Prata Cachaça, lime, passion fruit juice, vanilla flavor, cardamom extract and lemongrass oil), created by Las Vegas bar pro Mariena Mercer Boarini.
That canned Caipirinha "is my go-to refreshing and tropical elixir," says Joe Pereira, bartender at Carmine's in New Bedford, Massachusetts. "It's flavorful, bright and simply delicious."
LiveWire Drinks
Launched in mid-2020 by Los Angeles bar veteran and Wine Enthusiast 40 Under 40 Tastemaker Aaron Polsky, LiveWire's canned and bottled drinks are created by top bartenders from around the country. It's also become known for its business model, which looks more like a record label than a typical drinks company, meaning participating bartenders are compensated for their intellectual property.
"LiveWire goes beyond the spritzes and simple cocktails that we sometimes see in RTDs," says Gabriel Urrutia, author and bar consultant for Gramps in Miami, Florida. He describes the fizzy Honeydew Collins, created by Joey Bernardo, bartender at Harvard & Stone in Los Angeles and made with gin, coconut, lime leaf and elderflower, as "a perfect Miami sipper." Plus, he says, "the packaging and design is also stunning."
Social Hour Cocktails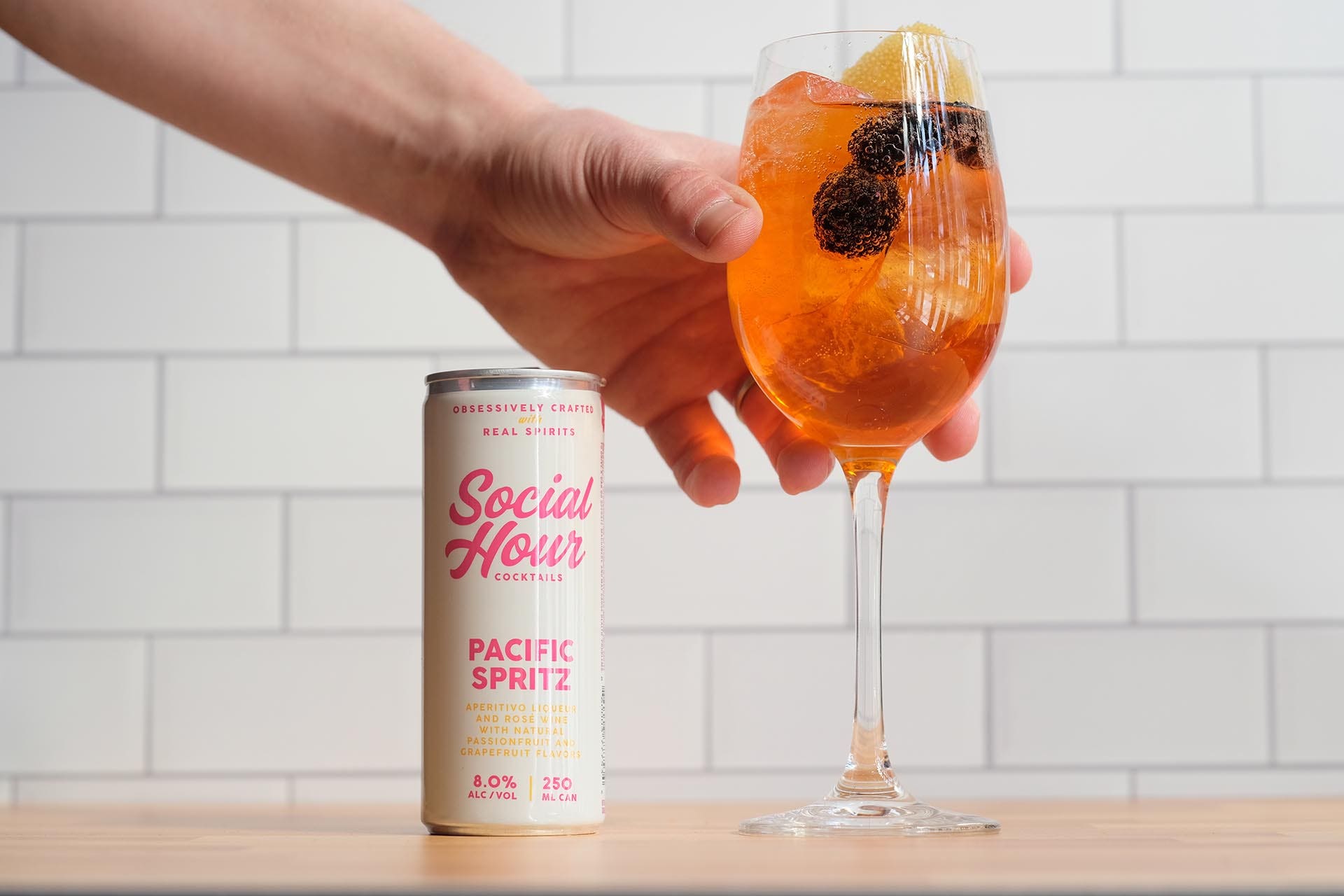 From Julie Reiner and Tom Macy, partners in Brooklyn's Clover Club, this lineup of canned cocktails includes a top-notch Gin & Tonic, rye-based Whiskey Mule and a Pacific Spritz made with sparkling rosé from the Finger Lakes. In coming weeks, a Strawberry Rhubarb Spritz, Sunkissed Fizz featuring vodka and yuzu, and a Prizefighter made with rye and Fernet will roll out as well.
"Their Pacific Spritz is a perfectly balanced pour for aperitivo hour," Urrutia says. "Love this one with a grapefruit peel in a wine glass."
Sprezza
A collaboration between Scrappy's Bitters and Italy's Mancino Vermouth, Sprezza offers two Italian-style canned spritzes, Bianco and Rosso. The Sprezza Bianco can, made with Mancino's Bianco Vermouth, drew accolades.
"I love aperitivo hour and I really enjoy Sprezza Bianco because it is dry, bubbly, refreshing," says Adam Way, bartender at Seattle's Il Bistro. "It has a floral alpine palate… [and] the finish has notes of bitter orange, ginger and pink grapefruit peel."
Way finds it succeeds texturally as well.
"It's properly carbonated and perfect straight out of the can, so it's a great no-fuss drink that's absolutely crushable."
Perhaps the ultimate compliment: he pours it at his bar.
Last Updated: May 8, 2023