After more than eight years of planning and patiently waiting, proponents of the San Luis Obispo Coast appellation finally toasted success on March 9, when the federal government approved the roughly 60-mile-long, 15-mile-wide region as an American Viticultural Area (AVA). 
Known as the SLO Coast, the area stretches from the San Luis Obispo County's northern border near Big Sur to the southern boundary with Santa Barbara County. It includes all lands on the west of the Santa Lucia Mountains ridgeline, comprising 408,585 acres total. Though primarily focused on Pinot Noir and Chardonnay, the AVA is an increasingly popular site for aromatic varieties such as Albariño and Grüner Veltliner as well as ideal for cool-climate Rhône reds like Grenache and Syrah.  
"We felt really untethered," says Maria Stolo Benetti, who became an early SLO Coast proponent when she opened her family's Stolo Vineyards in Cambria almost two decades ago. "There was nothing explaining who we are, and what we are doing, and how it was different than anywhere else."
Bennetti sent her first email to other vintners in November 2013. 
"There were so many other growers who felt the same way," she says. "That made it really easy to get the ball rolling." 
They became the SLO Coast Wine Collective, which now has 32 members, and applied for the appellation in July 2017. The application was deemed "perfect" two months later, but approval was delayed by the Covid-19 pandemic and change in federal administrations. 
The new appellation — which is home to more than 50 wineries and 78 commercial vineyards, reaching nearly 4,000 planted acres — is believed to be the coolest growing area in all of California, based on current data from 30+ weather stations spread across the region. Though the boundary extends 15 miles inland at certain points, 97% of the vineyards are closer than six miles to the coast. Fort Ross-Seaview in Sonoma County enjoys a similar proximity, but that region is just 600 acres and most of its vineyards are higher than 900 feet, making them warmer than the SLO Coast in the summer months.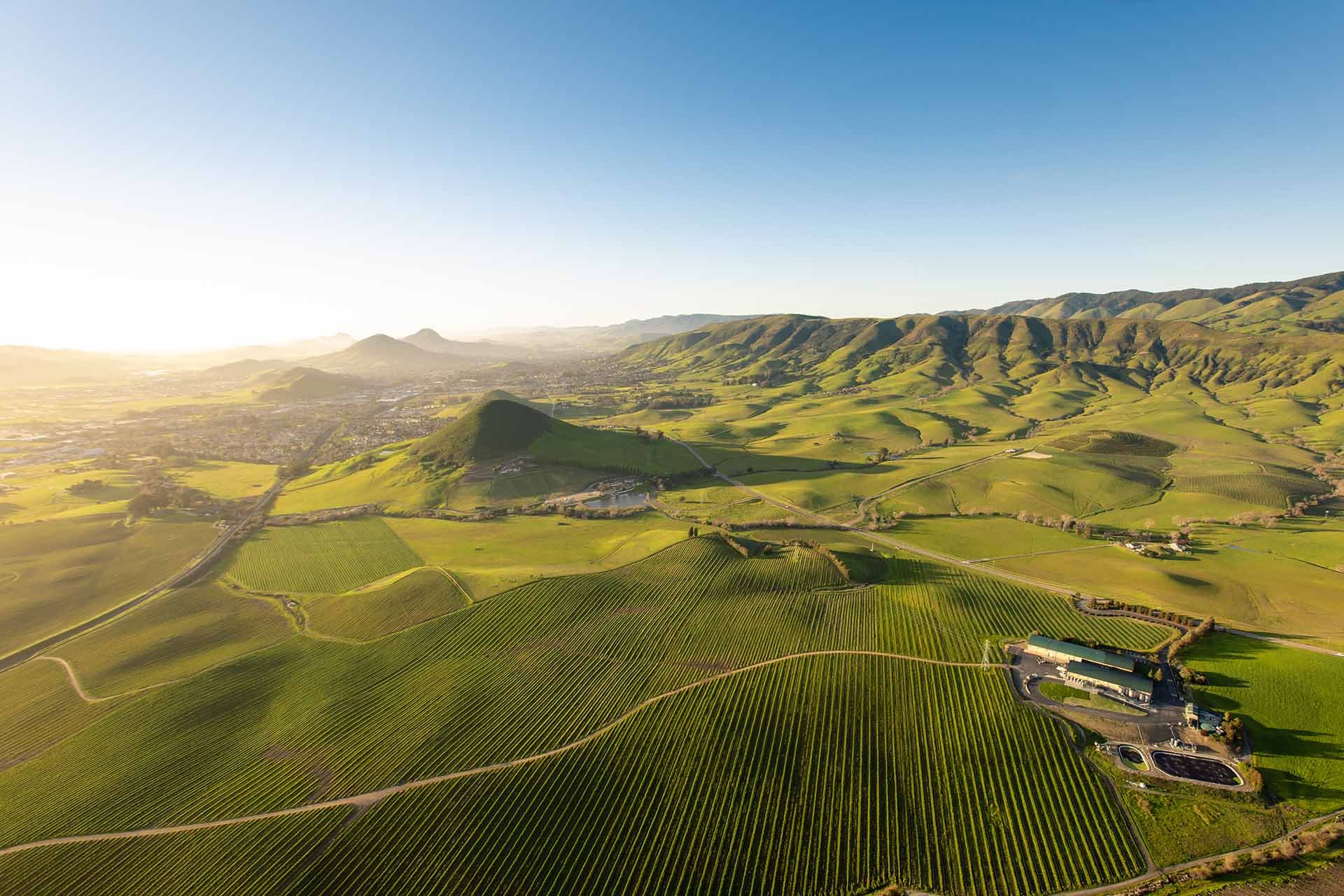 "We just have such a long growing season," says Aaron Jackson of Aequorea Wines, who authored the appellation application. When other regions are done with harvest, many SLO Coast winemakers are still picking grapes late into October and even November. "There's nothing like frost or rain that's shutting down places like Oregon and the North Coast," he says. "We're able to milk a little more out of it."
Born along this coastline in Cayucos, Jackson was inspired to become a winemaker because he saw "vineyards right here in my backyard," and gives much credit to the "brave souls" who choose to grow grapes and make wine from SLO Coast's unique terroir. 
"We have this amazing backdrop of the Santa Lucia Mountains, which are squashing us up against the ocean," says Jackson. "It's such a distinctive feature of our AVA, and it traps all that cool ocean influence between the mountains and the ocean."
The AVA includes the existing appellations of Edna Valley and Arroyo Grande, whose producers can now choose to use "San Luis Obispo Coast" or "SLO Coast" on their labels. Producers in the region include Baileyana, Center of Effort, Chamisal, Laetitia, Stephen Ross, Talley and Tolosa. 
"I'm really excited to get that AVA on the labels and just start shining a light on this area," says Bennetti. "It feels like we have cemented a place, which is really nice."
Last Updated: September 28, 2022