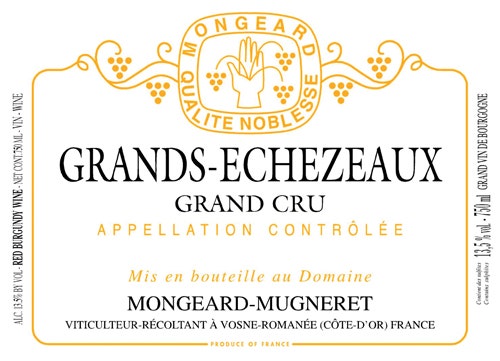 Domaine Mongeard-Mugneret 2017 Grand Cru (Grands-Echezeaux)
When you buy something through our link, we may earn a small commission. Wine Enthusiast doesn't accept money for editorial wine reviews. Read more about our policy.
Notes of truffles and sweet spice mingle into rich swathes of blackberry and black-cherry nectar in this fruity, mouthfilling Pinot Noir. It's a plusher, softer expression of the Grands-Echezeaux reflective of a hot, dry vintage but maintains a graphite edge and mineral tension on the finish. At peak from 2025 to 2035, it's likely to hold further still.
— Anna Lee C. Iijima
All tastings reported in the Buying Guide are performed blind. Typically, products are tasted in peer-group flights of from 5-8 samples. Reviewers may know general information about a flight to provide context—vintage, variety or appellation—but never the producer or retail price of any given selection. When possible, products considered flawed or uncustomary are retasted.
About The Scores
*Products deemed unacceptable (receving a rating below 80 points) are not reviewed.
98-100
Classic
The Pinnacle of quality
94-97
Superb
A great achievement
90-93
Excellent
Highly recommended
87-89
Very Good
Often good value; well recommended
83-86
Good
Suitable for everyday consumption, often good value
80-82
Acceptable
Can be employed
Unsure About This Wine? Get Personalized Wine Matches Based On Your Taste.
Discover New Regions for Pinot Noir
Stretching 250 miles south from the San Francisco Bay to Santa Barbara County is the Central Coast Wine Region, a coastal sprawl responsible for about 15% of California's total wine production. In the northern parts of the Central Coast, Chardonnay tends to dominate the plantings, with Pinot Noir, Merlot and Cabernet Sauvignon also playing significant roles. The cool, maritime-influenced climate along with the fertile and gravely soil contribute to Chardonnay's crisp acidity and citrus flavors, and the extended growing season yields concentrated Merlot and Cabernet. Some of the top northern Central Coast AVAs include, Santa Lucia Highlands, Santa Cruz Mountains and Monterey. South of Monterey, the Paso Robles AVA has garnered fame for its wines produced from Rhône varieties, Cabernet and Zinfandel. At the southern end of the Central Coast, Santa Barbara County (made famous as the backdrop for the…
The Willamette Valley Wine Region is one of the most influential wine producing regions in all of Oregon as well as the entire Pacific Northwest. The region spans from the Columbia River in the north all the way down to Eugene in the South. It is by far Oregon's largest AVA and is dominated by plantings of Pinot Noir and smaller amounts of Chardonnay, Pinot Gris and Riesling. The Willamette Valley is subdivided into six smaller appellations: Chehalem Mountains AVA, Dundee Hills AVA, McMinnville AVA, Ribbon Ridge AVA, Yamhill-Carlton District AVA and Eola-Amity Hills AVA. According to our Willamette Valley Wine Guide the mild, cool and somewhat moist climate provides ideal conditions for Pinot Noir, creating wines that are often considered the bridge between California and Burgundy style. The Pinot Noirs from this area tend to have black cherry and…
The wine region of Sonoma is home to some of the most historic vineyards and wineries in California. In the 1850s, Hungarian Agoston Haraszathy planted various grapes in Sonoma that he was confident could rival European varieties, and today it is a leading wine region in California as well as the U.S. The Pinot Noir and Chardonnay from the Russian River Valley and Sonoma Coast are predominantly made by smaller wineries and have experienced increased popularity, as can be explored in our Sonoma Wine Guide. Dry Creek Valley Zinfandel, the only varietal that the U.S. can call its own because it was the first planted in California, is rich with ripe and jammy berry characteristics and can gain complexity with oak barrel aging. The same goes for the elegant Cabernet Sauvignon wines of the Alexander Valley, which tend to be…