We've redirected you to our Vinturi page based on your search.


Not what you're looking for? View a list of items that match your search for "Vinturi"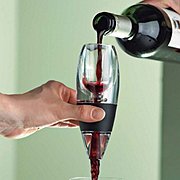 Vinturi Wine Aerators
Vinturi Wine Aerators are clearly on the cutting edge of wine aerating. Mixing just the right amount of air with your wine at the precise moments, this see-through aerator allows your wines to breathe instantly. The Vinturi Wine Aerator results are a better bouquet, enhanced flavor, and a smoother finish. Perfect aeration in the time it takes to pour a glass. Couldn't be easier. Browse Wine Enthusiast's full selection of Vinturi Red and White Aerators, as well as decanter gift sets.
Showing 2 Results for
Vinturi