Round Barrel Coffee Table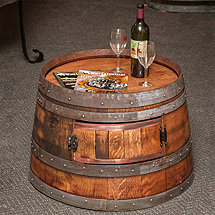 Reclaimed Half Wine Barrel Coffee Table
$495.00
Quick View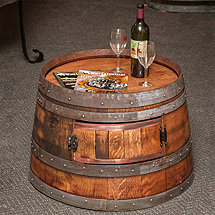 ---
---
The Reclaimed Half Wine Barrel Coffee table has a hinged door that latches with storage inside. Beautifully shows of the natural elegance of the once used wine barrel and fits well with any decor. Each Wine Barrel table are custom build giving each a special feel and decor no two are alike. Dimensions: 19'H x 28'Dia base x 22'Dia Top Weight: Approximately 75 Lbs. (Will Vary)
Item #
324 21 01
---
View Full Detail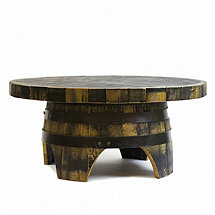 Whiskey Barrel Round Coffee Table
$995.00
Quick View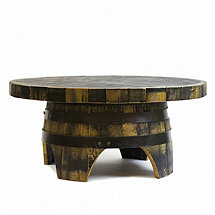 ---
---
This beautiful coffee table is made from reclaimed old Whiskey Barrels. The table top and the inside of the bottom have the distinguished whiskey barrel charred finish which was done by the distilleries to give the whiskey its great flavor and color. Made completely from American White Oak this unique table will be an excellent conversation piece for decades to come. Please Note: This item is handcrafted and No Two are alike. Variations in size ...
Item #
345 16 02
---
View Full Detail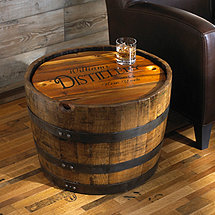 Personalized Whiskey Barrel Table
$795.00
Quick View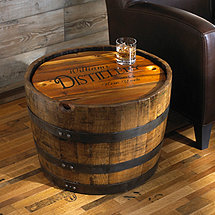 ---
---
These coffee tables are hand crafted in the USA from reclaimed whiskey barrels making each unique. All surfaces are sealed including the storage compartment inside. The removable top is hand painted with your name location and date. Makes a great gift! Please Note: These item(s) are hand crafted and NO two are alike. Each may very in size and weight Approximate Dimensions: 17-18' H X 24-26' W X 24-25' D
Item #
325 75 03
---
View Full Detail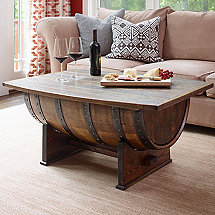 Handmade Vintage Oak Whiskey Barrel Coffee Table
Quick View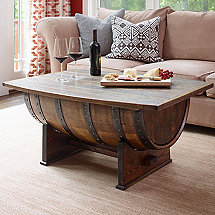 ---
$895.00
Reg. $995.00
Save 15%
---
Character and convenience: 100 Proof. Once a fixture in a Tennessee distillery now an extraordinary furniture piece for your home. This re-purposed aged-oak Whiskey barrel features a spacious tabletop hinged to reveal a generous storage area. Includes original barrel oak tabletop and base hand-stained for rustic charm. Easy to open brass hinge and stay open clasp Approximate Dimensions: 20' H X 31' W X 42' L (Dimensions may vary slightly) Approximate Weight: 100 Please Note: ...
Item #
325 75 04
---
View Full Detail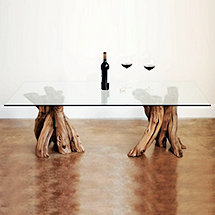 Grapevine Coffee Table (30 X 60)
$2,295.00
Quick View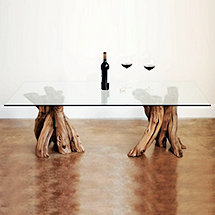 ---
---
Though their winemaking days are behind them their distinctive character lasts on. Decades of careful cultivation combined with the vines natural tendency to create their own whimsical chaos yields striking compositions. With some careful shaping and finishing each piece becomes a work of art suitable for warming the heart of a true wine lover. This elegant coffee table is made from some of the oldest vines I have acquired planted in the 1920's in Napa ...
Item #
325 11 27
---
View Full Detail
Top Categories
Shop Coffee Tables