Personalized Wine Rack
---
---
Your taste in wine is highly personal. And now the way you store your wine can be as well. Stackable wine racks personalized with your name on the top as if they came from your own vineyard. Slightly distressed with an oil-rubbed finish they hold up to 16 standard Bordeaux bottles. Customize with up to 12 characters plus year ('Cellars' automatically is included). Makes for a great way to mark an event – like a ...
Item #
324 58 01
---
View Full Detail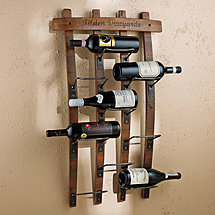 Personalized Barrel Stave Wall Rack
$179.95
Quick View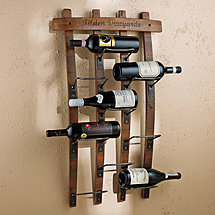 ---
---
Authentic barrel staves reclaimed and fitted with recycled iron to cradle up to 9 of your favorite bottles. With the rustic appeal of one discovered at a Sonoma flea market this vintage piece brings home all the warmth of wine country living. Please state up to 20 characters per line. Allow 3 to 4 weeks for delivery. Each piece is made by hand. Dimensions: 20-1/4'W x 33-3/4'L x 4-1/2'D. (Please note dimensions may vary)
Item #
570 08 15
---
View Full Detail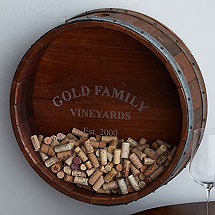 Personalized Reclaimed Wine Barrel Head Cork Colle ...
$299.95
Quick View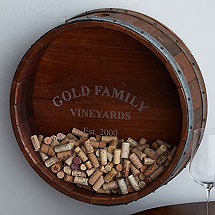 ---
---
Personalize it to make it extra special Easily add corks through the bunghole on top of the barrel. Hinged back opens to remove corks or add larger items. Plexiglas face keeps everything safely in place. Made in the USA. Each reclaimed item is unique and one of a kind. No two items are identically alike and may vary in: shape size color and weight Corks not included. Approximate Dimensions: 21' H X 21' Dia X ...
Item #
331 18 11
---
View Full Detail
Top Categories
Shop Wine Racks
By Brand
By Style
Other Options