Personalized Waiter's Corkscrews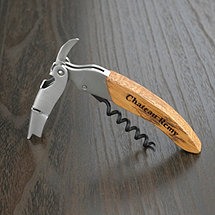 Personalized Origine Reclaimed Wine Barrel Waiter& ...
$59.95
Quick View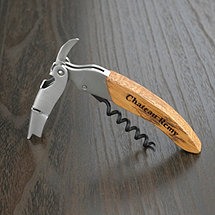 ---
---
Personalize up to 18 Characters After being selected from recognized estates in Bordeaux and Burgundy after many artisanal steps a new life is starting for the wine barrels... Probably the best life they could expect after working so hard maturing great wines what a pleasure to finally open them! Nature then speaks again making handles all different from each other some show wine some are burnt some are darker others clearer... Making the variety even ...
Item #
480 01 11
---
View Full Detail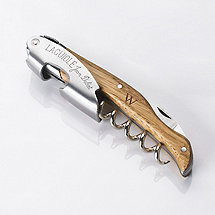 Personalized Laguiole Millesime French Oak Wood Co ...
$139.95
Quick View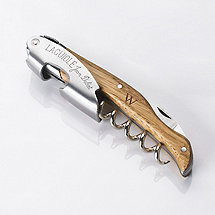 ---
---
Personalize with a single Initial Millésime (Mill-EY-zeem) – vintage quality and style.Handcrafted in France and handsomely presented in a metal gift box. The perfect gift for someone who recognizes that opening and presenting wine is a skill unto itself. Distinctively styled this extraordinary instrument is designed to be used everyday and special occasions. Handle is crafted from French Oak wood and finished to emphasize the material's natural grain. High-grade stainless ...
Item #
169 72 20 58
---
View Full Detail
Legnoart Ghemme Grand Cru Sommelier Corkscrew
$79.95
Quick View
---
---
Personalize with a single initial Handcrafted in 120 steps and exquisitely finished in rich Wenghe wood. Fitted with a professional screw and knife mirror-finished stainless steel and ergonomic long lever double curved handle. Comes with wood box. Made in Europe. Available Monogrammed or with Single Initial. Corkscrew Dimensions: 3/4' H X 5- 1/2' W X 1- 1/2' D
Item #
430 01 59
---
View Full Detail