Hand Crafted Lighting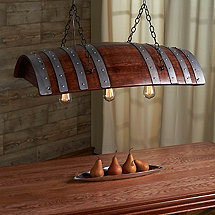 One Third Wine Barrel Hanging Light
$795.00
Quick View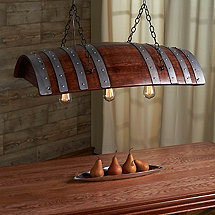 ---
---
Hand-Crafted & cut from a retired French oak wine barrel. Comes with three Edison bulbs complementing the industrial look creatively combined with the timeless elegance of the white oak wine barrel. Comes with chains & 3 Edison Light Bulbs. Hang from two hooks (not included) 15' apart. Approximate Dimensions: 12' H X 34' W X 18' D
Item #
570 57 01
---
View Full Detail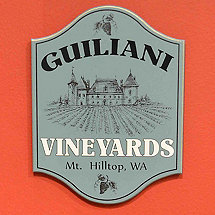 Personalized Vineyard Plaque Light Blue
$49.95
Quick View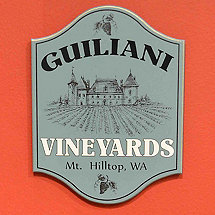 ---
---
The Personalized Vineyard Plaque Light Blue is the perfect gift for those who are looking to impress a loved one or for those who are looking to make a room in the house their own either way this will definitely make anybody feel very special when they see their name on the wall. Handcrafted in the USA of furniture grade wood and professionally silk screened by hand. Finished with hand routed. Dimensions: 16' H X ...
Item #
350 65 04
---
View Full Detail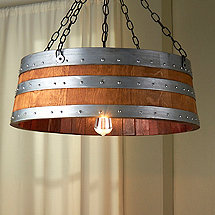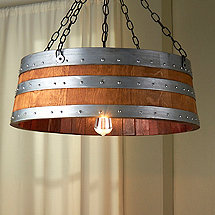 ---
---
Created from the top of a retired French oak wine barrel. Comes as shown with chains and one (1) Edison light bulb. Approximate Dimensions: 14' H X 20' W X 12' D Please Note: Each Are Unique & No Two Are Alike
Item #
570 56 01
---
View Full Detail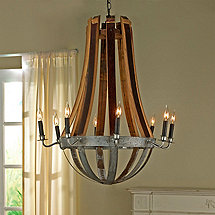 Reclaimed Wine Barrel Stave Chandelier
$1,795.00
Quick View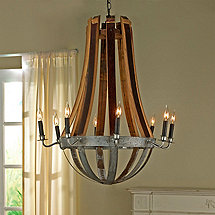 ---
---
This solid wood wine barrel chandelier is constructed of solid wood staves creatively connected on a ring of metal wine barrel hoops. The chandelier adds a touch of Napa style to any room in your home. The warms tones of the curved wine stave arms have curved metal arms that extend out to bulbs on a 'candle stick' seated in a metal cup. Chandelier hangs from a link chain allowing you to adjust the length ...
Item #
570 55 01
---
View Full Detail