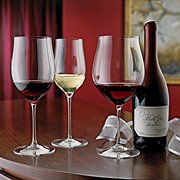 Fusion Triumph Collection
Well-priced handmade glasses. Oversized Bowls & Bases to swirl and aerate, revealing a wine's full bouquet. Tulip-Shaped Rims direct the flow of wine to the tongue's key taste receptors. Fluid, pulled stems. Mouth-Blown artistry achieves just the right shape and balance. Lead-free European crystal is fused with magnesium for elegance and strength.
You Break It, We Replace It.
FREE!
Fusion
10-Year Warranty.
Glassware protection guaranteed by Wine Enthusiast. See
Details.
Showing 1 Result for
Fusion Triumph