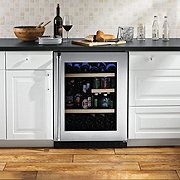 American Designer Kitchen/Bar Series Wine Refrigerators
American Designed. American Built. For The American Kitchen.
With the highest-quality of American engineering and manufacturing at its core, our American Designer Series features built-in wine refrigerators at their very best. While advanced technology protects your wine from its enemies, the ergonomic design is one of elegance and sophistication. We've taken great care to consider everything you could possibly want in a built-in storage solution. From fans specifically engineered for in-cabinetry cooling to a flawless fit with your other cabinets, zero-clearance doors lay flush without banging when opened, and close on their own. Complementing the décor of any kitchen, bar or wall of wine, these are built-in wine refrigerators well beyond the ordinary.
Showing 3 Results for
American Designer Series